30 seconds in Wales
(17 hours behind the scenes of our Welsh TV commercial)
We all met up in a dark underpass in Cardiff one chilly evening in May. Our star actress, the lovely Ffion, had to walk back and forth for about 5 hours with a scary guy stalking her and we soon attracted a row of onlookers gathering to watch what was going on. We were all very impressed by the girl who turned up at 8pm and stayed all night long watching, she almost felt like one of the crew in the end! I was glad I'd invested in some new gloves earlier that day as it did get rather cold, but our 11pm pizzas kept us going till about 1am before we packed up all our equipment and went back to the hotel.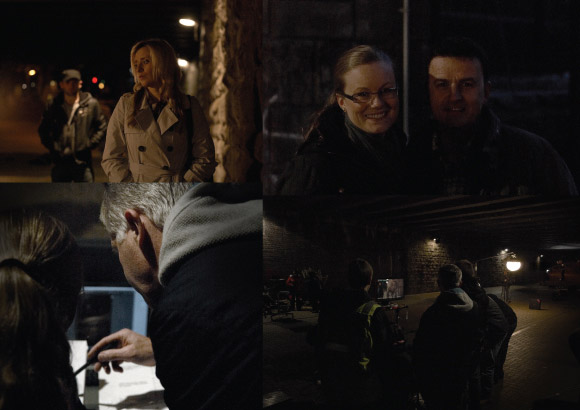 The alarm went off early and we headed over to a local bar to start filming the next scene. It's amazing how many people are involved in the production of a TV commercial – with all the actors, extras, crew and clients we were all in all 48 people! A lot of organising, but a lot of fun! In the bar scene we had the challenge of directing the actors and actress when they were speaking Welsh… Although, for some unknown reason, people often think I'm Welsh myself, this is not the case, so my Welsh vocabulary has never been better than it is now after this little trip. It's just unfortunate that I won't get much use of lines such as "I wouldn't mind a piece of that" or "She'd have it", so I think I'll have to stick to speaking English for now. Despite the language barriers this shoot went really well, we even managed to get some shots for our advertising campaign despite the tight schedule.
Next up was the van scene and this was the only time we really needed the weather to stay dry. I'm sure you can guess what happened… just before we headed out onto the busy street it started raining – we must have brought the rain with us from Manchester. But by the time all the camera gear was set up it was only drizzling, so we were quite lucky in the end. People thought we were joking when we told them that the bus stop where they were queuing wasn't actually a real bus stop, but our very own portable one that we had brought with us… I think even the bus drivers looked a bit confused! We were very happy with our casting of loud builders, but it was almost scary how quickly they got into their characters, shouting and leering at our poor Ffion. The wife of our main "builder" was looking suitably impressed watching her husband hanging out of the window eyeing Ffion up… The director, Adam, and myself were hiding in the back of the van, directing the "builders" whilst the van was being pushed by 5 strong guys… you wouldn't guess that when you watched the ad would you!?
When we arrived to the office location we were greeted by a whole marching band, which we thought was an extremely friendly welcome to Cardiff Bay! Our sleazy boss didn't disappoint and the shoot went very smoothly indeed. At this point I think Ffion had had enough of all the men following, commenting, shouting, leering and staring at her during the past 24 hours, but she did extraordinary well putting up with it all. It was about 9pm before we set off to go back to Manchester. I amazed myself staying awake in the car chatting to Simon all the way back to Sale, but I can honestly say that I was a little tired as he dropped me off past midnight. Being a gentleman, Simon went to get my bag out of the boot of the car, leaving the engine running. As he was getting back into the car it had locked itself. With the keys still in the ignition and a door that wouldn't open, it wasn't the best end to a great few days in Wales, but after a quick taxi journey back home picking up the spare keys, Simon was on his way home again.
The campaign has been live since the 1st of June and we're all very pleased with how well it's been received. With comments not only from Wales and England, but also requests from the USA and Germany to air the commercial there, we can only hope that this will result in a follow-up production in Berlin… that would be Sehr Gut, Jawohl! (better start brushing up on my German!)
Have you not seen the ad? Watch it here…
---
---