Why limit yourself to one approach?
Copywriting, PR, social media, SEO – it's all linked. That's the beauty of content in a digital world.
From blogs to broadcast, trade publications to online forums. Everything is a distribution channel, another way of getting your message out there.
The golden rule of content marketing
Content marketing. Inbound marketing. These are different ways of saying 'if you build it, they will come'. And they will – in their droves – if you follow the golden rule:
Never be boring.
Engage, entertain, inform and influence. Tailor the message across multiple channels. Build communities and generate brand awareness. Whatever your product or service, make it sing.
'Content is king'. Everyone's saying it, but how much copywriting really deserves the crown? Even the best writers must hone their skills every day to bring their subjects to life. And then what's the use of pretty words if they don't deliver against objectives!
The integrated approach to inbound marketing
Access specialises in attention grabbing content with strategic value.
We're an integrated agency. That means we don't know the answer until you ask the question. A PR agency will always recommend media relations. A search agency will only talk PPC and SEO. We've got lots of ways to get you where you want to be.
From online to print, public relations to social media – we deliver optimised content that exceeds expectations. We write for humans first, with search engines a close second. SEO is not about gaming the system, it's about making sure the right people see and share your content.
Marketing and advertising are evolving. But some principles never change. That's why we embrace the new, while continually perfecting the tried and tested…
Choose your channel – then engage, nurture and convert
Inbound marketing is brilliant. It really is. But we never underestimate the power of the direct approach. A clever email campaign can nurture lukewarm prospects into hot leads. A single piece of well-crafted DM can generate incredible revenue.
Of course, we live and breathe Twitter, Facebook, LinkedIn, YouTube, Pinterest, Google+, Instagram and an ever growing list of blogging platforms. We keep close to where the conversations are happening and the opportunities follow naturally. We enlist audiences with valuable content and turn them into willing link building armies.
We use some pretty sophisticated tools to measure results – and straightforward dedication to achieve them (ok, and some creative flair).
Are you ready for a fresh perspective?
If you have customers to engage, a website to populate, a product that needs promoting – anything with communication at its core – pick up the phone and we'll show you where we can add value.
Because it all comes back to content. Content that drives your brand. Content that determines how your customers interact with you.
Content that converts.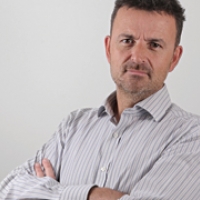 Do you need help with Content or building a Social community?
Call Simon Landi, Managing Director, on 0161 872 3455