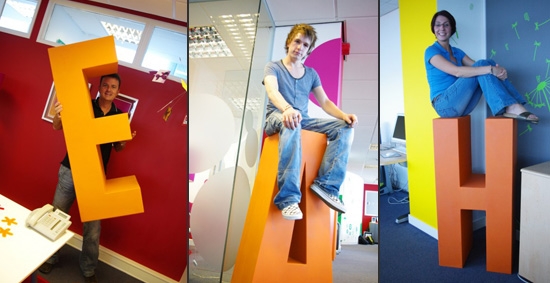 Is A for…Alphabet? Or Access? Or Accomplished? Or even Adorable?
A is in fact just one of the giant orange letters that we have scattered around our office.
The GARGANTUAN letters became surplus to requirements after we had successfully completed a shoot for one of our clients.  The photo shoot was to promote a new scheme funded by the Welsh Assembly Government for their "Enhanced Leadership and Management Skills Programme" which helps improve the skills of managers and their workforce in businesses throughout Wales.
The shoot featured 3 workers intertwined in the GIANT letters which spelled out the words "Enhance" and "Gwella" (for all you non welsh speakers Gwella is Welsh for Enhance).
After the shoot was over, we were left with 13 lovingly crafted GIGANTIC letters that needed a home.
So, what were we supposed to do with them?
Use them as part of the office decor of course!!
---
---