On 30th June, around a hundred people including Suzi and myself celebrated the one year anniversary of Social Media Day with an event hosted by Mashable, in Castlefield, Manchester. There were speakers from Greater Manchester Police, BBC North West Tonight, Manchester City Football Club and Miss Cay.
My favourite idea that the Greater Manchester Police talked about was an idea they created to raise awareness about alcohol induced violence. They created a page where you could upload a photograph and put yourself in a prison cell. The concept was you will end up behind bars if you become drunk and disorderly. This idea worked great with social media and became a big success. I thought the idea was simple but fun and effective.
Miss Cay a.k.a. Christina McDermott has written over 30,000 tweets and has more than 3,200 followers. My favourite tip from Christina was the 5 second rule. Always count to five after you have thought of a tweet before you post it. This rule will save you from those embarrassing moments.
The idea I liked the most from MCFC was a map which told you how far away you were from the ground at any given time and in which direction the stadium was. The fans were posting pictures of themselves on holiday and showing how far away they were from the ground.
I would like to say a well done to Suzi for winning the signed MCFC photograph at the end of the night. The event was very interesting and a great achievement. I am looking forward to next years meeting to seeing how social media has changed in 12 months. In the mean time follow us and see what we're doing at @accessdigital.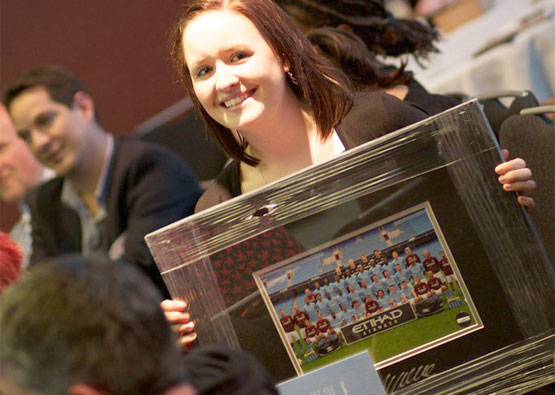 ---
---