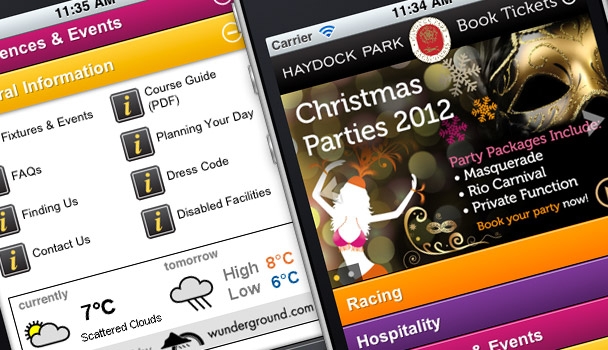 Having built Haydock Park's award nominated website in 2010, Access were approached by the racecourse operators to see if they could improve the user experience for those who visited the website via their mobile phones.
In the case of Haydock Park's website the number visiting it via mobile devices was considerably higher than with many other sites; up to 35%. This was expected to rise still further with the course about to hold one of its biggest races of the year, the Betfair Chase in November.
Through the use of analytics it was noted that whilst the site was designed to be mobile friendly, users accessing the site via their phones were mainly doing so to visit certain parts of the website, so an alteration in the mobile format of the site, in particular making these elements more prominent would be beneficial.
Access worked with Haydock to create a new version of their site that would maintain the mobile users' ability to visit the entire site but would simultaneously bring features that were widely used by such users to the fore of the site.
This included ticketing information, how to find us and dress code information, which were all chosen after consulting the analytical information that was available from the racecourse's website.
Diane Glover, Marketing Executive at Haydock Park said: "We are delighted with the result of the new mobile site. After listening to what our customers were saying to us, we then consulted with Access who came up with a solution for us.
"We are already receiving a lot of very positive feedback from our customers, who tell us that they now have the information that they want appearing more prominently, which is improving their experience of using the website."
---
---