Last week, love was in the air here at Access Towers. Well, in so much as we ran our first ever Twitter based Valentine's competition. I've never been one of those overly romantic types, especially when it comes to being told when to be romantic. I prefer to be one of those off the cuff romantic types, serenading from the street via a tapedeck a la John Cusack from 'Say Anything' or making sure I've left the toilet seat down. You know, basic romantic stuff. Knowing that I am in the minority when it comes to Valentine's Day, I wanted to play cupid for those who would appreciate it. The premise of our competition was simple. Tell us a sad/funny dating story, accompany said story with a sad selfie and use our hash tag #AccessLove.
Shedding the load
The competition began in earnest on Monday 10th February and spanned the entire week until Valentine's Day itself. First of all, I must thank each and every one of you who got in touch and shared your story. Some were hilarious, some were harrowing and in one spectacular case made me cry with laughter and feel sick at the same time. You know who you are. What the competition proved was that each and every one of you has a sense of humour which mirrors mine. It's good to get your past calamities out on the table and cleanse the soul. If we can't laugh about the past we'd have no room for future fun and games.
Social response
In terms of response, the Access twitter feed was the busiest it has ever been. We received upwards of 500 mentions in conjunction with the competiton. The #AccessLove hashtag was used over 200 times and thanks to our 30 entrants the whole office had a lot of deliberating to do when the competition finished on Valentine's Day. Once the winners were chosen I was thrust into the role of cupid. My journey took me to places I was familiar with and agencies I'd never been to. What made this competition special was that I was able to go out and visit some of the lovely people who entered and lavish them with gifts.
Cupid visits
First up was Gemma Eccleston at PR Agency One who had dashed back from the team lunch to greet me. I loved the fact that you had to part with your lunchtime drink to make the appointment. Much appreciated, at least there wasn't any throwing up in crotch antics. The rest of her team turned up just in time for the agency chocolates which I'm lead to believe did a disappearing act pretty soon after I left. Hope the stain remover comes in handy Gem.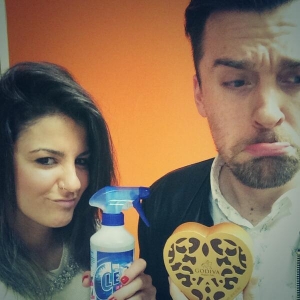 I then hot footed it over to see Ruby in #SocialCorner at Return on Digital. Having heard so much about it on twitter it was a real thrill to be there in person. Although I have learnt that the shortening of names on first meeting is somewhat presumptous. The smell of Elnett is, as it turns out, lovely Rubes. Thanks for the experience, and for the quality brew Laura.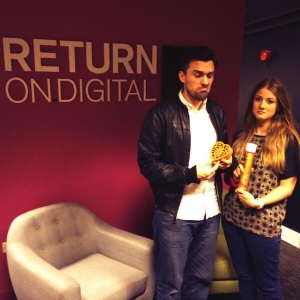 Ten minutes later I was in the northern quarter to visit Fanta the dog at Modern English. Whilst all of the winners were happy to receive their prize I think that Fanta takes the prize for being the happiest. Knowing that dogs can't have chocolate meant that I made a quick stop to pick up some dog treats. Fanta was thrilled with her prize, demolishing one treat in about 10 seconds flat. Everyone loves a happy customer. Plus its always nice to catch up with Bruce, Dunstan, Tanya et al.
The E Word was my next destination, spending 20 minutes with Dan Nolan who was chuffed that I had bought him his chocolate but more so that I had provided a bag of dreamies for each of his cats. They really are the treats cats crave. Great to see Al Makin, Kleon West, Matt Aikenhead, Alex and the wonderful Director of Love- Lucy whilst I was there. Cracking brew Lu. Ta
My final visit was to Jake at MRJ recruitment. Having missed out on the plethora of sweets which Access won as part of The E Word #Lucky7 the whole team was chuffed to have won something at last. It was nice to meet Jake and his team who have been in regular touch with the Access twitter feed for a while now. I did get handsomely beaten at table tennis and escaped before further punishment was inflicted. I do hope that your missing staff member returned and that the rumours of Jake's secret past weren't true. Let me know please!
Our final winner Shaunagh lives out in Preston and has received her prize through the post. It would have been nice to meet you, however, your story scarred me pretty badly. I had a nightmare about it. Thanks.
Again I want to thank everyone for their support and entries. I had a great Valentine's Day with you all. I hope my visit made yours a little more special.
---
---