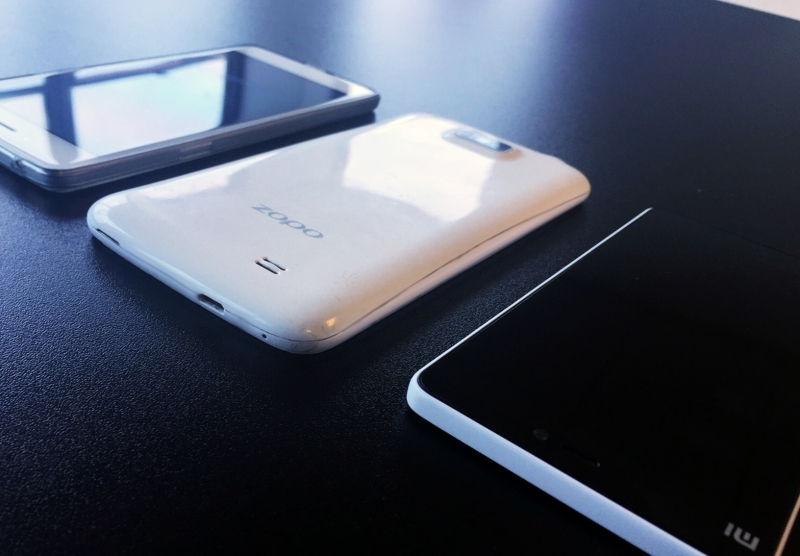 Stereotypically known as cheap iPhone and Samsung fakes/knock-offs, smartphone brands like TLC, Lenovo, ZTE, Oppo, Huawei and Xiaomi are currently undergoing a surge in popularity.
The effects of economic slowdown within China, has seen Chinese companies venturing more and more into the European, Indian and US markets. As a result, growth has been impressive and popularity is growing. With the world getting smaller by the day and logistics forever getting more efficient, these companies are able to provide a high quality service that was previously unattainable.
The table below shows a clear indication of growth in sales from companies like Huawei, Lenovo and the rest.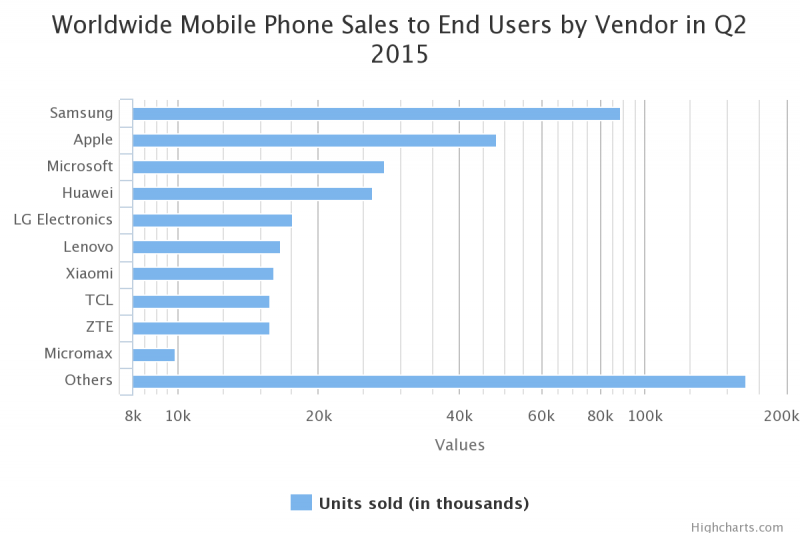 Although the table is of worldwide sales (including China), it shows that some of these companies own a good amount of the market, nearly as much as Microsoft. In the past, Chinese companies have struggled to take international markets by storm. This tends to be because of the trends within Europe and the US where consumers gravitate to brands they know, trust and offer a localised customer support service. This has made it difficult for Chinese manufacturers, as few consumers trust unfamiliar names enough to part with the substantial costs of a smartphone. It's like walking into Lidl or Aldi and spending hundreds of £££s on an electrical product you've never heard of...it simply doesn't happen.
To overcome these struggles, several Chinese companies have taken to some interesting tactics…
Lenovo recently purchased Motorola from Google ($12.5bn in 2014), which has helped them as a company to establish themselves within the global markets and continue to use the brand Motorola.
Other companies have tapped into alternative markets, like India and Africa, to build a stronger reputation and trial marketing campaigns outside of China. Tactics includes: Free phones, buy one get one free deals and social media campaigns, this provided a wealth of informative content about these brands to help build trust with potential consumers.
These tactics built a foundation for Chinese smartphone brands to move into the European and US markets, where they can compete with Apple and Samsung by offering high spec products at lower costs.
Year after year Apple and Samsung release updated versions of their flagship models, but their 'improved' features really don't warrant such an increase in price. Chinese companies are capitalising on this by offering high spec smartphones at lower prices. They are also getting more and more recognition from industry press like T3 and Stuff which aids the growth in popularity and trust.
Tom Malleschitz, Director of Marketing at Three, said that thousands of its customers are already sourcing handsets from China via e-commerce channels. This trend is what prompted Three to become the exclusive operator partner for the the Honor 7 in the UK.
"Last year we had five-digit numbers of people sourcing those brands over the Chinese online channels. That was one and a half years ago, and that was the starting point, so you can imagine how it has increased," he said.

"It's a growing trend, it's not huge yet, but it's building to a big wave, and that's the reason why we thought we need to get onto it as quickly as possible."
Here at Access, we keep ahead of tech trends and already use three Chinese smartphones, the Xiaomi Mi, the Oppo R7 and wait for it...The Zopo. We love each of these phones and and would fully recommend investing in a Chinese phone, providing you do your research first!
As sales of Chinese phones grow, device testing will naturally be impacted. Most of the Chinese smartphones sold in Europe and US use Android as the Operating System, but some of them prefer to use the Android OS as a platform and create their own versions, like Oppo's ColorOS. Plus, each smartphone comes with its own native browser, so using Chinese smartphones enables a fuller QA test.
They also come in handy when testing multilingual websites, our client Arden University targets Chinese, Indian and African markets which have a high volume of Chinese smartphones use, so it's essential we test using as many devices as possible. Having Chinese smartphones here at Access puts us in a great position to fully QA test for these scenarios.
For a good place to start researching into Chinese Smartphones, we'd recommend Specout!
Got a question about device testing on smartphones? Give us a bell on 0161 872 3455!
---
---