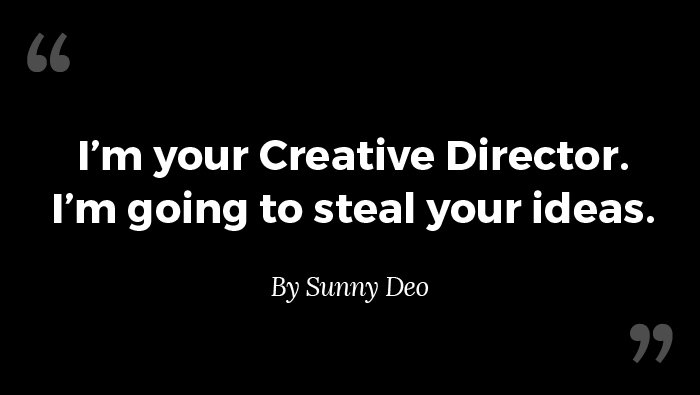 These weren't the exact words one of my Creative Directors once said to me, but that was his interpretation of 'reviewing' my work. I was 23 years old then, and staring down the barrel of a painful two years under his 'leadership'. Though, in hindsight, I feel I've learnt more from this breed of Creative Director than any other throughout my career. As for the great leaders I've worked under, I can't praise them enough and I owe them much.
Now at 37, and as someone who has been a Creative Director for six years, my management methods haven't deviated all that much. And there's no real secret to be honest. Different CDs work in different ways, and these are my tips for managing a happy and engaged creative team. 
Encourage your team to spread their wings and fly. I constantly instil belief into every team member, telling them that they have the goods to do something special, and if I must I will keep going until they are convinced. You'd be amazed what change can come about in someone from just a few uplifting words.
No such thing as a shit idea. What I can't stand is when creatives say "that's a shit idea, bin it." Every idea leads you to another, and then another and so on. It's the journey of brainstorming. Until you arrive at that BIG idea. So what's a shit idea? The idea of not sharing any ideas.
Create a fun, positive working environment. Obvious isn't it? Fun, banter, lunch drinks now and then, a little foosball, pool or table tennis (if you're lucky enough to have one of these). When the pressure's on, or you have to get serious with the team on work demands then of course you must, but the teams are mature enough to know it's all for the greater good and it's never personal.
The invisible line. I communicate to the team that we're all on the same level, especially when it comes to brainstorming. Just a few friends getting together to put some ideas down. I'm just the one who makes a call on what we proceed with.
Empower. I've led a small group of four, up to teams of 30, and to each I've said the same thing; that one day you'll be leaders in CD positions hopefully, so start thinking and acting like one. Think strategy, marketing purpose and longevity. Think about what you would do, or do different, in my role. Challenge me!
Everywhere I have managed the one constant has been this; that the Creative team is a wonderful group to be around. Everyone is complete with his or her own individual brilliances and complexities, and that's what makes every one of them special. And that continues here at access.
New place. Same philosophy. I have no right to tell anyone in my team how to 'think creatively' – it just sounds absolutely ridiculous. As long as I have their trust, I'm convinced the ideas will come. My role is simply to use my experience as a creative strategist to help guide them, like a rudder. Otherwise, it's all about empowering the team as much as possible. That way, you're developing more leaders, and nurturing a culture where creativity has the best chance to thrive – a win-win for everyone at every level within the agency.
Now it's your turn.
Please feel free to share your thoughts on my management methods and those of your own @accessdigital.
---
---