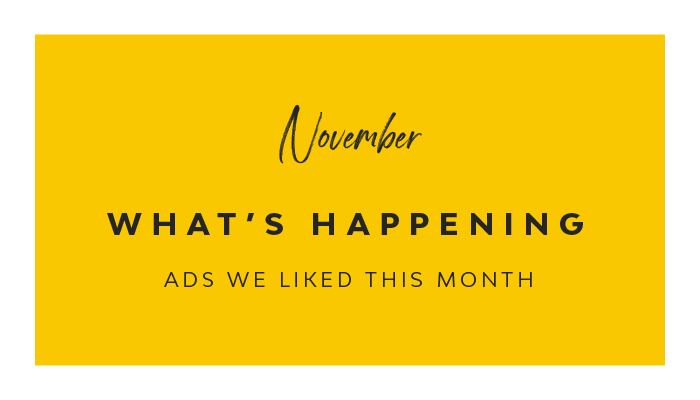 8 months of working from home have passed, the leaves have fallen from the trees and we are greeted with a heavy fog most mornings. As excited as we all are for Christmas, we are all struggling to cope with how quickly November has arrived. In the ad world, this means the return of the beloved Christmas ads and they were jam packed into our November edition of 'What's Happening'! 
As expected, the supermarkets dominated the conversation along with one Channel 4 anomaly which we dive into further below. Unlike others years, there seemed to be more variety than normal as not every brand has gone down the emotional tearjerker route. Some are avoiding the topic of the pandemic completely with humor, whereas some are using the events in the last few months to shape their narrative… and we are loving both! 
For the last time in 2020, here are our top 5 from this month's round up.
1. Plenty
Abby, our Account Executive chose Plenty's new Christmas ad and although it did make a few of us cringe, it really was memorable- and that's the aim of an ad isn't it? The ad embraces mess with a campaign that bucks the conventions of festive advertising and gives us a story of Christmas love as it really is, mess and all. Created by Plenty's new agency, AMV BBDO, the 'Xmess' film shows what seems to be the conventional 'family Christmas' but viewers as quickly shown the side few of us get to see! 
Abby's reason for choosing the ad was because "it's not the traditional Christmas ad we all expect. It highlights the many uses of the product (some slightly exaggerated), makes us laugh and is memorable".
2. Channel 4
Next up was an ad from Channel 4, created by their in house agency 4Creative. This was less festive, but nonetheless a great choice from our Designer, April. The ad works to celebrate the range and diversity of it's talent on the channel through complaints that have been made against them. Some include Bake Off's favourite Prue Lieth talking with her mouth full, Jon Snow dressed as Game of Thrones' Jon Snow because he 'knows nothing' and the Derry Girls who 'need subtitles'.  
April thought "it was a good way to deal with the negative comments that can come from some viewers. It shows they are a brand that welcomes diversity and inclusion and the way they have incorporate it into an ad is highly effective".
3. Sainsbury's
Now, time for the most talked about ad at the moment. Frankie, our Head of Client Services, brought the Sainsbury's ad to our screens this month (she didn't create it, just shared her screen) and here's what she's got to say about it... 'I loved the 'real' feel of this ad and liked the nostalgic feel of the old family video tapes - it really played into the sacredness of Christmas family moments and memories and encapsulated the 'quieter', more personal joys to be found during the festive season.
It was a heartwarming reminder that, whilst many of us are missing these moments, we have great memories and can look forward to much needed family reunions, with all our home comforts, love and most importantly, delicious food (that's never the same when you try and replicate it yourself!) once this is all over'.  
The ad was from a series of three Christmas ads showing the traditions from different families at Christmas time. Without commenting on the negative reasons why it was in the news this month, we think it's a great ad which brings the nostalgia of Christmas time whilst tapping into the extremely relevant issue we are currently facing- will we get Dad's gravy?!
4. Tesco 
Onto the supermarket which took the pandemic in its stride, Lauren, our Head of Planning, shared Tesco's Christmas display ads and focused on their brilliant copy. The display ads are an extension of their TV ad,  which encourages us to ditch the 'naughty list' and enjoy ourselves after a tough year. The display ads are super simple, making the copy that even more effective. It brings humour to an uncertain time and has made light of what could have been a sad ad, reflecting on the bad times.
Lauren said "I think Tesco's creative copywriter has done a brilliant job here. Bang on for Christmas 2020", and we all agree! 
5. Amazon 
Finally, we have an ad from Amazon. The ad focuses on the effects of the pandemic on a ballet dancer as her dance show she has trained hard for is cancelled. The ad shows the community coming together for her to be able to perform a (socially distanced!) show, aided by speedy delivery of a flashlight from Amazon!
Simon, our MD submitted this ad because it caught his eye for three reasons; "One, it captures the 'community' spirit that I felt we have regained in 2020 - helping your neighbours and local community is far more prevalent now than it was 12 months ago (I just hope it stays so!). Two, because it was a two-fingered message to the UK government ad campaign regarding Cyber Security and that a job for them was better than chasing your dream of being a dancer (I know it wasn't two fingers to this in reality, but it was to me!)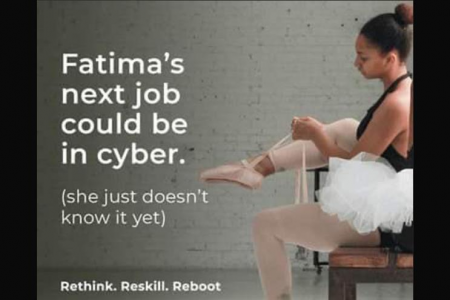 And finally and most importantly, my daughter is starting out in a career in the arts (dance/ballet/musical theatre) at probably the most difficult time in history - so  it has a very personal connection - which after all is why we create ads in the first place!".
We loved this ad as it really did provide the sense of community we have all felt during this year. 
And that's it for the ads of 2020! If you enjoyed this year's Christmas ads as much as us, or if we missed your favourite, let us know in the comments! See you next year for a slight change in what we review as we mix it up with some site/app reviews to keep our brains ticking. Have a lovely end to 2020, and thanks for reading!
---