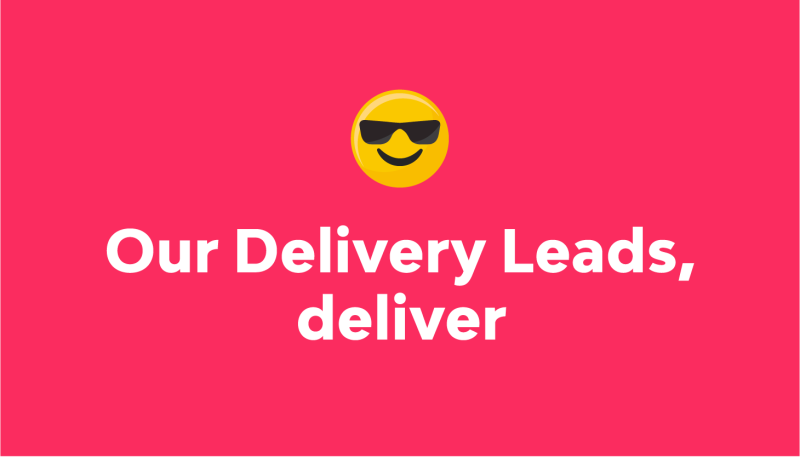 An efficient and successful delivery team at Access means proactively supporting our client with the full customer journey across their website development and digital services. We deliver transparency, agility and the ability to get on, and get the job done. Driving this work forward are our Project Managers, and more recently, our Delivery Leads.
A new position in our delivery team, the Delivery Lead's role is to look wider than just specific projects of work, and focus on squad leadership and product ownership, helping to take our client's digital estates further than ever before.
As a newly promoted Delivery Lead, in this blog I am going to share a bit more about what to expect. But first up, a little introduction on the set-up of our delivery team…
Working in Squads
Every client is assigned to a dedicated project 'squad', and this is for both Maintenance & Support and project work. Our squads are made up of 4-6 developers, one Delivery Lead, one Project Manager and a QA. We are working across three squads at the moment.
The benefit of working in a squad system means that each squad is focused on its own portfolio of clients, meaning that every member of the squad has an in-depth knowledge of the client platform and challenges, and are not spread thinly across multiple projects at once. The retention of knowledge and insight means the client gets a dedicated resource, but our teams can also add more value as they really get to know the ins and outs of a product. 
The squad is additionally supported by subject matter experts such as Solution Architects, Head of Delivery and UX Consultants as well as a new role we're introducing, Client Partners, meaning our delivery team is set up for success.
So, what is a Delivery Lead?
There are three core areas of responsibility for a Delivery Lead:
Project Management
Overall responsibility for the delivery of projects within a squad. Including resourcing, scheduling, reporting, finance and delivery approach. 
Team Leadership
Providing the day-to-day management of the squad, addressing performance and celebrating successes. This also includes creating clear career path progression for Junior PMs/PMs to aim towards becoming Delivery Leads themselves.
Product Ownership
Working with clients to define their requirements and measuring performance. We know that these days it is all about data and tracking performance, so we want to make sure this is central to all our clients too.
I imagine you might be thinking, 'What's the difference with a Project Manager then?'.
The key thing to note here is that while a PM will typically help to ensure their clients project work is completed within agreed deadlines to a high level of satisfaction, the Delivery Lead will take a more holistic view of the wider squads' projects. They will work closely with the client to look at future work and enhancements and also work in a Product Ownership capacity, working with clients to define their requirements and measuring our performance. Having this core focus on performance and improvement, they can also ensure that the project delivery approach is suitable for both the client and product.
My new responsibilities
I have been in my new role for a month now and while I'm still working closely with some of our Squad 23 clients from being a Project Manager, I have taken on several new responsibilities already.
With the directors I am assisting on scoping new projects, which can include determining the correct delivery methods and timescales, and helping to build out backlog and user stories in line with the product vision. What's great is that I can either manage these projects to completion myself, or hand it over as a nice package of work to one of our PMs. Working in agile ways, we can pivot to assist our client's needs as they flex up and down, making sure each project has the correct resource behind them.
Another area is working closely with the Commercial Director to look at utilisation and address areas for improvement, as well as taking over the day-to-day line management of the squad's Junior PM and three developers. Working alongside the squad Tech Lead and Head of Development I will play a part in identifying opportunities for development for each of the squad members too.
I am really excited to be working more closely with new projects and taking on more line management responsibilities. And for my personal development, even though I am already SCRUM Master certified, this role will also help me to build on my product ownership skills and get more involved in performance reporting. 
However I think the priority for me, and what will be of huge benefit to our clients, will be having a focus on driving the squad toward achieving the strategic goals of our clients that go above and beyond the smaller day-to-day KPIs.
We are looking for another Delivery Lead to join the team, so if this sounds like a role you'd be interested in, please do check it out and apply here - or get in touch with Lisa Jones to find out more.
---