Fast and flexible site solutions for multi brand spirits business
.
The Client
Edrington is a privately owned international premium spirits company based in Glasgow that makes some of the world's best-known Scotch Whiskies. 
Its brands include The Macallan, Highland Park, The Glenrothes and The Famous Grouse Blended Scotch Whisky. The company has strategic partnerships with Tequila Partida and Wyoming Whiskey, and its portfolio is completed with Brugal premium rum and Snow Leopard vodka.
The origins of the business stretch back to the 1960s, when William Robertson founded the Robertson & Baxter company. Today the organisation operates across the globe, spanning the Americas, Europe and Russia, and large parts of Asia and the Middle East. In fact, 80% of its staff work outside the UK, truly embodying it's global grasp.
Edrington is focused on becoming the world's leading super premium brand builder, and has a strong track record of investing in both consumer marketing and the operational assets to bring its brands closer to consumers.
The Brief
Access was appointed as Edrington's global digital partner in 2018.
We are tasked with developing its global web platform, a business critical component in enabling the business to achieve its digital vision of greater global brand and product governance. 
A fundamental aspect of our role is supporting the internal teams' capabilities to build, update and centrally manage multiple websites at a global scale, whilst also providing flexibility to tailor the digital experience for local audiences.
The Solution - A centralised platform with local flexibility
With multiple brands needing to provide their own world-class customer experiences, alongside the need for central technical governance, the best solution to meet all these requirements was to go for a multi-site platform with centralised management, and in this particular case, Acquia Cloud Site Factory fitted the bill.
It allowed Edrington's multi-domain architecture to be managed from one central control, and on one single Drupal codebase. This not only meant greater security across the whole infrastructure, it also provided their digital teams with highly efficient ways to build, update and centralise multiple Drupal websites at a global scale. As well as meaning less manual work in managing and updating their multiple sites, and providing governance over brand consistency.
With Edrington needing localised content to be supported from the ground up as well as top down, this platform also gave their regional and country markets the tools and autonomy to create and personalise content to support localised campaigns and customer tastes. This means that visitors enjoy an enhanced user experience, and new features can be added with ease.
As well as creative flexibility and freedom, the platform offers greater security and governance with a simplified tech portfolio, allowing us to be technology agnostic with their solutions for future developments.
We've already migrated brand sites for The Macallan, Highland Park, Famous Grouse, Brugal, Nobel Oak, The Glenrothes and Naked Grouse on to the new Drupal 8 CMS and Acquia Cloud Site Factory, with other brand sites to follow soon.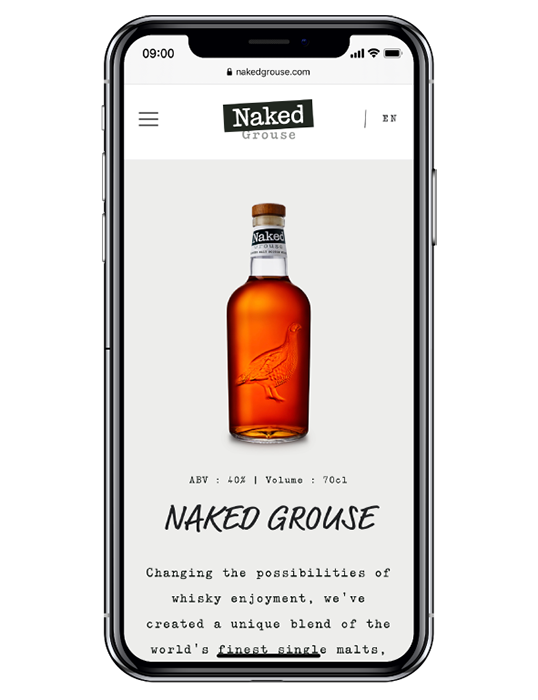 Ongoing projects and developments
With the development of its global web platform well underway, we're also working on numerous projects that are helping Edrington to gain maximum benefit from their digital tools.
The Macallan is a key part of Edrington's portfolio, with prices ranging from £50 per bottle up to £3,350 for its exquisite The Macallan No.6 single malt. So with a desire to grow customer loyalty, and to give customers more control over their orders, we created an Enhanced Ballot System for The Macallan. We produced a personalised customer account management section, which allows customers to enter product ballots, view all orders and manage their preferences. Blending eCommerce and personalisation tools to help elevate the brand and make customers feel special.
We used React in this instance to enable it to talk directly to the API. By using the React web application built in Drupal, an API-first content management system, the member section of The Macallan site aggregates data from a number of sources, including Shopify, Drupal and Auth0, for a personalised, robust and secure user experience. 
For The Macallan USA team, we also created an onsite Gift Finder in the run up to Thanksgiving to further the personalised customer experience journey for those buying gifts for the holiday. We have since then used it for Father's Day too.
As a multi-channel business, digital solutions will be connecting the offline customer experience with Edrington's overall digital data strategy. Similarly, opportunities for more personalisation are being explored.
Service and solution highlights
Operating across so many markets and brands can be complex, but as we have given Edrington a strong framework to facilitate the delivery of its digital transformation programme at pace and cost effectively, we're already seeing some fantastic results across the Edrington platform and brands.
Automated site setup with brand, country and language configuration using Acquia Site Factory for 8 Edrington brands so far
A personalised account dashboard built with a headless application, developed in ReactJS 
Pattern Lab design component integration, allowing decoupled design theme development
Using ReactJS with Drupal to create a seamless eCommerce experience, alongside integrating with Shopify and Thirstie to bring local delivery to multiple global markets
Utilising VueJS for the first time to build both a Father's Day and Thanksgiving Gift guide
Frontend development of the Famous Grouse bottle personalisation and gift card service
"This project forms a hugely significant part of Edrington's ambitious international development plans and Access are a key partner in supporting our digital transformation."
Catherine Murphy, Head of Consumer Applications, Edrington