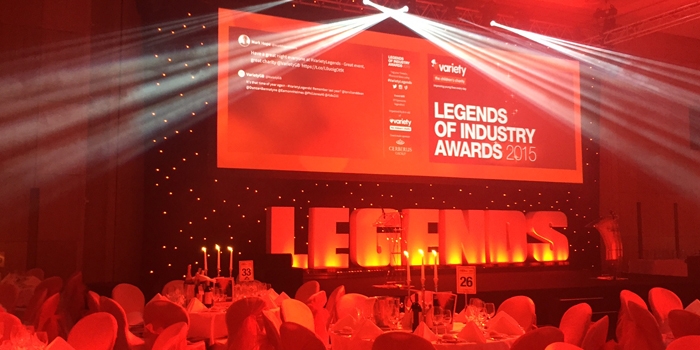 Last week we sent a team along to the Legends of Industry Awards, organised by our client Variety, the Children's Charity, at the Hilton in Manchester to help increase social engagement and interaction throughout the evening's festivities with our new social streaming tool, Event Stream Live.
Event Stream Live (ESL) is a live social media platform, which collects Tweets, Instagram posts and also Vine posts that use a specific hashtag; this time it was #VarietyLegends. These messages, photos and comments are then monitored and authorised so that they can then be displayed on your event's big screen.
The Variety Legends of Industry Awards were back for their fourth consecutive year, celebrating the contribution that individuals have made from across different industries and sectors. We were entertained by the outstanding comedian Lea Roberts and treated to a performance from The Jerseys. Then came the awards ceremony. The star-studded 'legends' receiving awards included the Falkland's War Veteran, Simon Weston (who received a three minute standing ovation), Julie Goodyear the ex-Corrie TV star and Mahmud Kamani the inspiring entrepreneur behind the Boohoo empire.
Our main job was to increase social media interaction throughout the night, as well as raise awareness about the great work that Variety, the Children's Charity does. Armed with a laptop, the live streaming software (ESL) and our best glad-rags, we proved that you can bring a room closer together and engage with an audience outside of the room using live social media streaming.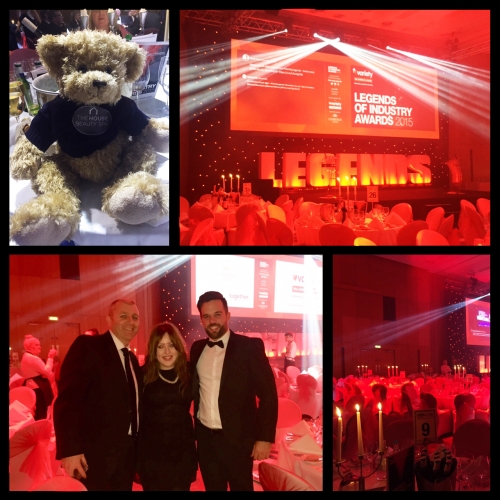 Event Stream Live was displayed on two huge screens at the event. Guests were invited to tweet their photos and messages using #VarietyLegends so their message could be seen by everyone on the big screens. We spent the evening roaming around, providing help and support for guests wishing to interact with the screens, taking selfies and promoting the sponsors and contributors.
All of this helped us to achieve some fantastic results:
1,373,512 overall impressions
117 unique people tweeting
371 posts using #VarietyLegends sent throughout the night
287 overall interactions
7% increase in unique users reached
Retweeted by influencers such as Torvill & Dean & Umar Kamani
The event went extremely well and was a huge success, raising a significant amount for the charity. We'd like to give a huge thanks to Lyn from Variety, the Children's Charity for having us and we're really looking forward to attending the Yorkshire Variety Business Awards (#VarietyBiz15) in December to raise even more money and interest.
---
---