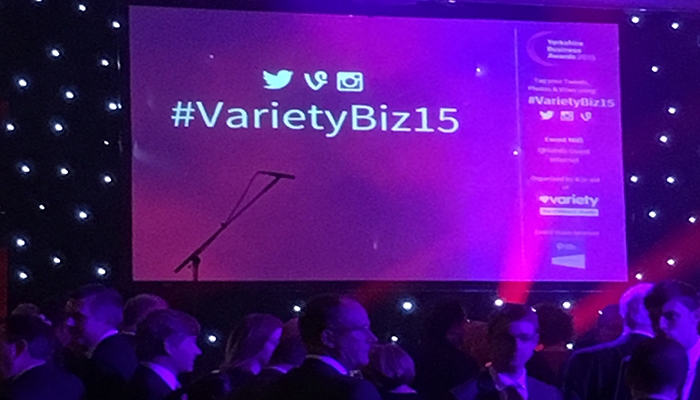 Last Friday (11th December) we went along to the Yorkshire Business Awards, organised by our client Variety, the Children's Charity, at the Queens Hotel in Leeds. Our aim was to help increase social engagement and interaction throughout the afternoon's ceremony using our new social streaming tool, Event Stream Live.
Event Stream Live (ESL) is a live social media platform, which collects posts from Twitter, Instagram and Vine through a specific hashtag. On this occasion, it was #VarietyBiz15. These messages, photos and comments are then monitored and authorised so that they can be displayed on the event's big screen.
Increasing social media interaction was our main objective, as well as raising awareness about the great work that Variety, the Children's Charity does. Packed with our live social media streaming software (ESL), our laptop and our determination to help deliver a great experience, we proved that an audience can be engaged with outside of the event using social media.
The Yorkshire Business Awards have been an annual fixture in the industry calendar for the past 29 years, as they celebrate the achievements of a range of businesses from around Yorkshire; with awards ranging from Business Leader of the Year to a Yorkshire CSR Award. We were entertained by the harmonic sounds of the Queen Elizabeth Grammar School Junior Boys Choir and treated to a humorous speech from the outstanding Sir Ranulph Fiennes. During the awards, the heroic Matt King shared his remarkable story and we were treated to a hilarious 30-minute speech from the legend that is Brian Blessed. It truly was a great afternoon.
Our stream was displayed on various screens around the event and guests were invited to tweet their photos and messages. We spent the afternoon interacting with guests, providing help and support for those wishing to interact and also taking table photos of the attendees to use on social media!
All of this helped us achieve some fantastic results:
663,895 timeline deliveries
236 overall interactions across Twitter & Instagram
277 posts using #VarietyBiz15 sent throughout the afternoon
4% increase in unique people reached compared to the Yorkshire Residential Property Awards
Charlotte Farrington, Regional Development Manager for Variety Yorkshire said:
'The social media tool that Access provided added to this fabulous event. It really gave everyone the option to participate, making them feel more than just a guest.'
We'd like to give a huge congratulations to Charlotte from Variety for organising such an amazing occasion, it was fantastic working with you.
If you're interested in how Event Stream Live can help increase your social media participation and engagement, give us a call on 0161 872 3455!
---
---