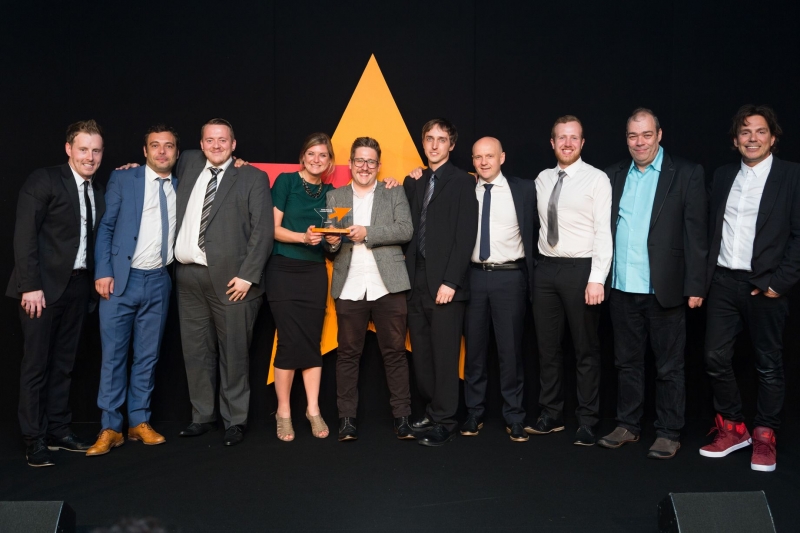 It was a big night for Access at the 2015 Big Chip Awards, with two nominations in the categories of Best User Experience and Best Visual Design for our work on BAFTA.org. 
Against some very stiff competition, from agencies we respect and admire, we won the 'Best User Experience' award.
The judges were impressed with this ambitious site that presented a huge amount of information and rich content with beautiful simplicity.
Now in its 17th year, The Big Chip Awards are the top digital awards outside London and the longest running in the UK. The judges have a reputation for enforcing rigorously high standards, proven by this year declining to shortlist any entries in one category. This isn't a 'bums on seats' awards event. To have our work recognised at this level is a proud moment for the team at Access, as it is for our client and collaborating partners on this project – Loft49 and The Council.  
Winning the Best User Experience award is of significant importance to us too, as over the past eight years we've evolved from a 'traditional' agency, expanding and developing our digital capabilities to the extent that it's driving much of our agency's growth. We've placed particular importance on understanding audiences and putting the user at the centre of everything we do. When we work with clients that understand and value this approach we consistently produce better results, faster and more effectively. The Big Chip Award is validation that it's the right approach.
Thanks to the organisers, in particular Manchester Digital, and the sponsors and contributors for making a great night possible. We're already working hard on making it back next year!
Congratulations to @accessdigital who are taking home the award for Best User Experience with the BAFTA website! #BigChipAwards

— Big Chip Awards (@BigChipAwards) July 2, 2015
Woohoo! We won! @BAFTA, @accessdigital & @loft49... Best User Experience. Couldn't be happier! #BigChipAwards pic.twitter.com/Q0bU8WHgMj

— Pippa Irvine (@pippairvine) July 2, 2015
We did it! The dream team at the #BigChipAwards last night! Best User Experience for @BAFTA! http://t.co/esbd0IbaXq pic.twitter.com/ZFJ3sbDCzd

— Access (@accessdigital) July 3, 2015
Well done @accessdigital!!! I wanna see the shiny trophy tomorrow at work! pic.twitter.com/OzYfg9AjeM

— Liam Walsh (@LiamWalshWeb) July 2, 2015
@accessdigital I just heard this! Well done guys. Over the moon for you all xx

— Helen Holmes (@bellls) July 2, 2015
Very well done to @accessdigital for the @BAFTA site, great work! #BigChipAwards

— Space 48 (@Space48ers) July 2, 2015
Well done team @accessdigital - only gone and bloody won a Big Chip for Best User Experience #BigChipAwards pic.twitter.com/pgPB7CJJTm

— Ashley Johnson (@johnnnnson) July 2, 2015
---
---