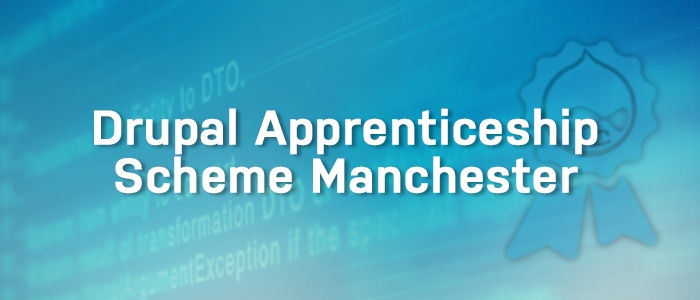 The world of technology and web development is still a male dominated industry; however, the Manchester Drupal Apprenticeship Scheme aims to address this by encouraging women to enter the world of Drupal web development.
We have noticed there is a real lack of female Drupal developers to recruit, therefore we welcome this new Apprenticeship Scheme and fully support its initiatives to get more females working within the industry.
Irina Macovei has been a valued team member at Access for nearly two years.
'It's really important that schemes like this exist to create opportunities for female developers, I'd like to see a lot more females working in this industry and that starts by educating young women and girls about the roles that they can pursue within web development and tech, and encouraging and inspiring them to follow this path.'
Here at Access, we're hoping to recruit one of these up and coming Drupal apprentices, whether male or female.  To show our support, we'll be heading down to boot camp sessions to help out and meet the future talent – so keep a look out for us! Get in touch with us if you're interested in one of our Drupal apprentices by emailing [email protected].
---
Read the latest Press Release from the Drupal Apprenticeship Scheme:
Drupal Apprenticeship Scheme: working with young women to close gender gap in technology
There is an obvious and distinct lack of professional women in the technology industry - this is not news but it also does not appear to be changing.
Specifically in the sphere of web development from designers, developers and coders to analysts, strategists and managers - women are underrepresented at all levels which maintains a gender gap that affects us all.
Women's equality in technology is a critical issue that many prominent people are trying to tackle and the Drupal Apprenticeship scheme is also trying to deliver an impact. To this end the scheme appealing more directly to young women who might take up web development as a career.
Having run successfully in London the past two years, the Drupal Apprenticeship Scheme is running again now in London and will launch in Manchester this November. The Scheme is developed and run by industry experts and experienced training providers. It consists of a two week 'bootcamp' followed by a year long paid placement of hands-on learning in the workplace, accompanied by two additional training days every month from seasoned professionals and industry experts. The Scheme trains young people in areas identified as critical by industry leaders, and as such, ensures that graduates are work-ready and extremely employable.
Crispin Read, Drupal consultant with the programme, comments: "It is fundamentally important that we facilitate and encourage young women to take up careers such as web development at the earliest stages of their professional lives to address the industry's gender gap. Drupal is a content management framework system used by well over a million websites, including The Economist, The GLA, The White House and Royal Mail. However, despite the high profile of this popular framework, it is not taught on any school curriculum and there is a real lack of female junior developers in the industry".
The Scheme, which is now actively recruiting applicants from Manchester and London, is open to young people age 16-23.  Applicants do not require a degree, or any academic qualifications. The selection team are looking for an aptitude and enthusiasm for web development, rather than grades. In recognition of the work that needs to be done to close the gender gap in technology, women are especially encouraged to apply. By the end of the two week bootcamp phase of the training, applicants will have built two fully functioning, database driven websites from scratch and be placed for a year in industry to qualify with a Level 4 Tech Industry Gold Apprenticeship - equivalent to a foundation degree.
Crispin continues to say: "In many ways this is much better than a university degree, academic institutions cannot ever really hope to keep up with the pace at which our industry develops and changes - this is vocational training delivered by the very people you would hope to work with and for - a brilliant opportunity for anyone wanting to get into web development."
The scheme has been nominated for Apprenticeship Programme of the Year at the Learning and Performance Institute's annual awards 2016.
There are four work placements available in Manchester all with renowned digital agencies working with well known brands and international clients.
"If I hadn't done the apprenticeship I would probably still be on a minimum wage job at Sports Direct", states Jack Holding - one of the first students to undertake the apprenticeship. "Now I've got a clear career path in web development."
Deadline for applications is 20 October in London and 10 November in Manchester. Visit www.drupalapprentice.uk/wit for more information.
---
---