Knowing which payment provider to choose as a charity can be bewildering. There are so many options and it's not always clear who will offer you the best value and the best service. We've taken a look at each provider and what it means to charities. Which is best for you? Find out below.
Go Cardless
Key facts and figures
Direct debit only
1% transaction fee
Does it Integrate with Drupal: Yes
GoCardless is the king of direct debit processing. With the only charge being a 1% transaction fee that is capped at £2 per transaction (so any transaction upwards of £200 will only cost £2), GoCardless is not only one of the cheapest options around, but, also one of the simplest.
The thing that makes it special, however, could also be deemed it's biggest weakness - it only deals with direct debits.
Sage Pay
Key facts and figures
Free support
Full PayPal integration
0 – 1000 transactions per quarter – £25 per month
Does it Integrate with Drupal: Yes
Sage Pay is Europe's leading independent payment service provider and is one of the most trusted payment brands. They form part of The Sage Group, a FTSE 1000 listed Global accounting software company.
Each year, Sage process over 4 billion payments securely online, over the phone and through card machines. Over 50,000 businesses across Europe rely on Sage to process card payments securely and help prevent fraudulent transactions.
Sage Pay offers 1,000 transactions per quarter for £25 a month, with any extra transactions costing an extra 10p each. If you only process a small amount of transactions per month, then Sage Pay may not be the best option. However, for charities and not-for-profits that handle a lot of transactions, Sage's expertise in the area may be worth any potential extra costs.
Worldpay
Key facts and figures
Established brand
Charity rates
Does it Integrate with Drupal: Yes
Worldpay first provided international multi-currency processing in 1992 and Internet payment services in 1994, making it one of the first providers of such services in the world.
Much like Sage Pay, Worldpay's strengths are in their experience, support and security. These come at a slightly higher price, with a 2.75% transaction fee for credit cards and 39p for debit cards. Worldpay do offer special charity centric discounts though, and will waive their initial setup and monthly fees.
Stripe UK
Key facts and figures
Built with Developers in mind
Simple… 2.4% + 20p per transaction
Does it Integrate with Drupal: Yes
Stripe may not spring to mind when considering payment providers, but it does boast a wealth of users such as Kickstarter, Shopify and Slack.
This popular payment gateway brings with it the features which has seen its meteoric rise in popularity in just a few short years. Simplicity and developer-friendliness combined with a flat rate of 2.4% + 20p per transaction Stripe is, from a financial point of view, beautifully simple.
There are no extra charges for different cards, different payment methods, or even for different currencies.
In a glance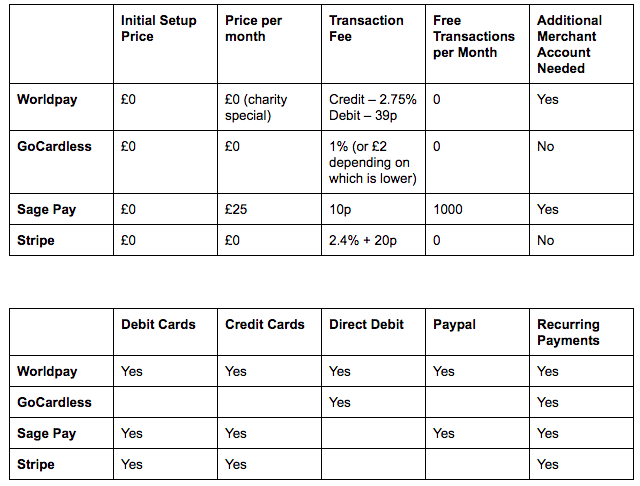 ---
---