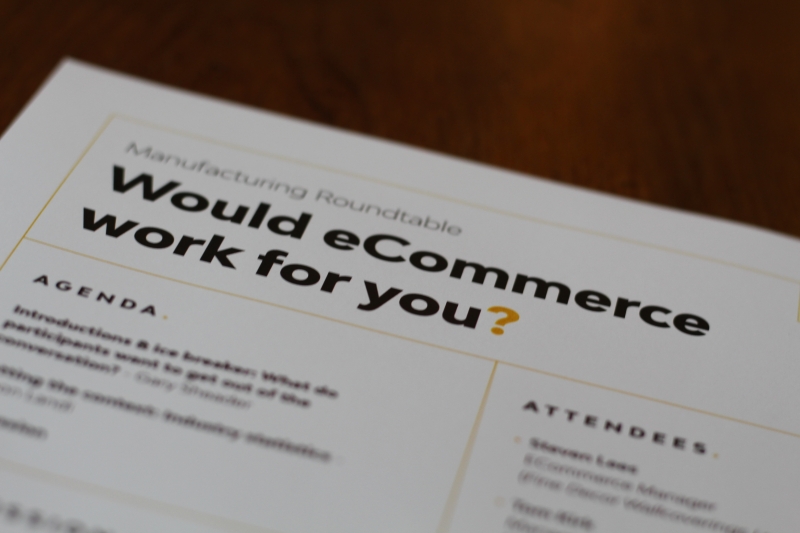 In our latest roundtable event, in partnership with Acquia and Prolific North, we heard from a range of manufacturing businesses, each at varying stages of their digital journey into the world of eCommerce.  
We looked to explore the potential benefits of eCommerce for manufacturers as well as the potential barriers to this business strategy. At the same time we considered some of the digital technologies and techniques to best meet the needs of businesses looking to sell online to either existing B2B customers or direct to the end user.  
The event was chaired by Gary Sheader, founder and Chairman of The Manufacturers' Alliance, which consists of groups of leaders from the UK manufacturing community that meet on a monthly basis to help each other achieve their business ambitions. 
Gary opened the discussion by highlighting findings which show that UK manufacturing is significantly behind its European counterparts in terms of its adoption of digital technology. He also outlined some of the most common reasons that manufacturers were reluctant to make the move into online selling, in particular the effect eCommerce might have on long-standing (and dare we say 'traditional') supplier/manufacturer relationships, as well as disruption to the business as a whole, and resource. 
Access' Simon Landi also presented recent statistics regarding manufacturers' opinions on eCommerce that provided valuable context to some of the key issues, as well as opportunities, within the sector. Of particular interest was a poll that indicated that by 2025, 72% of B2Bs expect 41% or more of their revenue would be derived from eCommerce websites they own or operate. 
And what followed was a fascinating debate – with most attendees concurring that they are all struggling with the huge dilemmas surrounding selling online but need to venture into eCommerce in some way, shape or form. There were some fantastic insights and experiences shared; here are the highlights.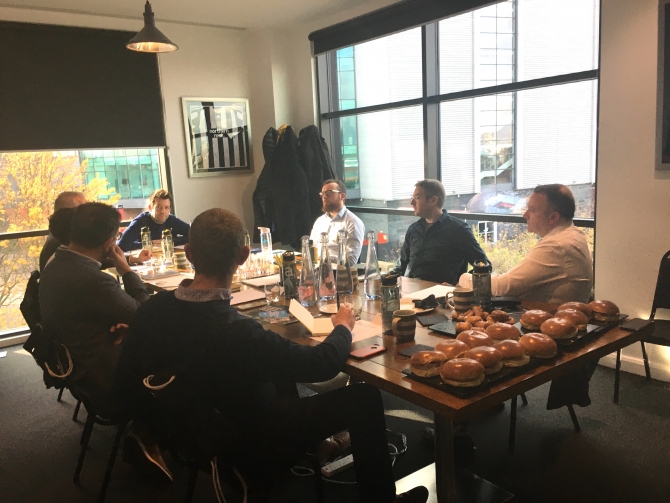 Attendees:
Tom Kirk, Francis Kirk
Neil Davies, Sentinel
Paul Blount, SC Johnson Professional
James Clews, Stephenson Personal Care
Gavin Hepburn, ATG Access
Simon Landi, Access
Alan Botwright, Acquia​​
What are the main barriers to implementing a successful eCommerce function – and the solutions to overcome them?
The biggest obstacle facing everyone around the table was the impact that any kind of eCommerce function would have on existing B2B customer (in the main distributor) relationships.
There were varying degrees of how current distributors and customers would likely react, with some attendees emphasising that any form of online selling - whether to business customers via an account, portal, or, indeed, direct commerce online - would certainly upset the status quo.
This led on to highlight that an overriding fear in the sector is 'breaking what you've already got' by trying to introduce digital commerce and cannibalising sales away from their suppliers.  
Conversely, Tom Kirk (Francis Kirk) claimed that it was actually Francis Kirk's distributor base that asked for eCommerce functionality to be introduced, a move that the business is now well on with (despite the huge task of listing the firm's 248,000 products on the site!). Tom explained that they had explored various ways to introduce online sales and that because they were running the sales process through their CRM system anyway, the move was a natural progression.
Getting around the P word
When the discussion turned to how to get around the issue of publishing list prices online, a popular solution was to put automatic discounts on customer purchases at the checkout. This way distributors can benefit from the convenience of buying online – and repeat purchase – as well as use published prices when discussing sales with their own customers. All customers can buy at 'list price' while keeping the distributors margins in place.
Most people also agreed that customers would recognise that products available online are priced higher than bulk buying prices or long lead time items; accepting that people will pay more for the convenience, smaller orders and the immediate availability of products.
It was agreed that online retailing opens up the potential to sell to different types and size of business, which is a huge positive, especially in highly competitive markets to try to increase overall market share. It can be designed to cater just for existing customers - to create a more efficient sales process, to extend reach further to small businesses or indeed it can open up channels to B2C markets. 
For businesses like Sentinel, some products are already available to purchase online. Its retail channels have changed – and this raised the question that unavoidably this means the manufacturer's channels to market are being impacted on.
With regards to pricing, the discussion concluded that digital is disrupting the status quo anyway and that manufacturers will inevitably need to embrace this change in some way. It is now less a matter of should we move into eCommerce but when will we move into eCommerce.  
Trial and Error
A number of the businesses around the table had 'tested' eCommerce in some guise.
The pros of trialling online selling, as a safe way to introduce change, were discussed. This was emphasised in particular by both Neil Davies from Sentinel and Tom Kirk of Francis Kirk. Sentinel has been trialling eCommerce for the past 12 months with a bespoke selection of products. While its distributors have questioned the move, the business was able to highlight that its products are different to those sold through its existing channels and was catering for audiences that have slightly different needs to the core customer base.
The other advantage associated with trialling eCommerce versus going all out was to test if there is a market.  
Brand equity versus new but unknown brand
With an overriding 'fear of breaking what they've got', two ways of approaching eCommerce were deliberated – to sell online under the master brand or to create a separate brand.
Many felt that while the brand is their strength and selling under this name would certainly carry merit, creating a separate brand for eCommerce would be the safest way to approach it. This was more relevant in relation to any B2C commerce. This way they have nothing to lose and wouldn't tarnish the business or confuse customers, current and new.   
Gavin Hepburn of ATG Access, a business selling security solutions from gates and fences to bollards, shared his business' dilemma of how to cater for customers coming to the site for both large specificatin projects or single purchases to increase their home or small business. As part of a website redesign, Gavin will be introducing eCommerce but has concerns that if customers see that they sell single products that they're perhaps perceived too small for the large Government and multi-million pound projects that are the bedrock of the business. Here two clear routes into the business was identified as a good option.
Business Buy-in
Simon Landi moved conversation on to the extent of organisational change needed for a successful transition from manufacturing into an eCommerce.
Everyone around the table agreed that a move into online sales requires buy-in from the entire business, top to bottom.
Gary Sheader made the point that the change is one of 'Serviceisation'. A concurrent concern was that a mental shift is required – because you transition from being a business that 'makes things that you sell' to a retail business, where 'the service' element is paramount and this is much more fundamental than bolting on a Shopify function on to a site.
Data and personalisation
No discussion regarding increased digitalisation would be complete without mentioning the huge benefits that eCommerce brings in terms of customer insight and personalisation, due to increased and higher quality data acquisition - a point reinforced by Alan Botwight from Acquia.
Such insight can transform a business and help to lead future strategies from everything from product development, through to the entire customer experience. 
A vital point made by James Clews of Stephenson Personal Care was their experience of turning everything on its head and focusing entirely on customer needs as opposed to doing what the business wants and convincing customers that this is a good solution for them. By really understanding how customer's needs have changed – and their expectations – a clear customer-centric strategy can ensue.
Logistics
A final discussion point was how an eCommerce function can be managed in terms of 'pick and packing' and logistics. Making eCommerce financial viable in terms of the resource and infrastructure was something many people around the table had battled with.
Bringing in fulfilment partners was a common solution; experts that were already geared up to operate in this way. While a more expensive route, this allows for a trial period to indicate that there is a future in eCommerce for the business before moving ahead.
Summing up
When the phrase 'it's a minefield' was used during the roundtable discussion, most agreed. What was clear is that there isn't a simple one-size-fits all solution for manufacturing businesses entering into eCommerce.
A business needs to change its mindset and buy-in needs to come from all areas of the organisation.
There are huge opportunities for businesses to adapt to today's fast paced, customer-driven digital world where a convenient Amazon-type buying experience has become an expectation.
Customer insight is vital in creating the change, and it's a question of how not if. 
The event was held at Hotel Football overlooking Old Trafford stadium. 
---
---