Creative block, OCD overload, those 'it's just not happening' moments. We've all been there, we all go there, there's nothing more frustrating. Sometimes you just need to have a break, sleep on it, or jump onto another job for a bit - then come back to it fresh.
As Access' Art Director, sometimes all it takes is one of your team to point out something so simple it blows your mind. Talking about your work always helps - the days of turning your laptop round to the next desk for a quick group critique are less frequent at the moment of course, and you just can't beat that. But it's 2020 - so screenshot, screenshot, screenshot. Zoom, Slack, share screens, keep talking, keep getting opinions and keep soaking up inspiration.
This leads me nicely onto browser bookmarks… Sometimes you just need to see something inspirational - a colour palette, an ad format or even a typeface. Having a broad set of bookmarked inspiration sources is essential for me. So here's some of my regulars to help get you started.
Behance
Starting with the obvious - I've been coming back to Behance for years now. It's a great place for inspiration and is rammed full of beautiful work, colour palettes, patterns, typefaces and packaging from creatives everywhere.
Design Week
Nice, simple, design news. Every day. Design Week is a daily click for me, a great balance of industry news and projects covering everything from football kit designs to Royal Mail stamps.
The Drum
As well as the visual inspiration, it's good to read a bit deeper and keep on top of how things are working in the industry. The Drum is a marketing/ad/design news site where you can easily end up in a Wikipedia-like hole for hours on end. Not only full of the latest marketing and ad news, it covers opinion pieces, research and insights along with an archive and leaderboard of the latest creative works. And has even included our own work too.
Design Calendar
A beautifully designed calendar of curated design events, covering cities all over the world. This was my go to place for seeking out events in Manchester, and now they've adapted to focus on online events. As well as the regular favourites such as Glug, PechaKucha and DesignMCR, expect to see interesting events and workshops from the broader creative community. They also have a regular, very satisfying print edition! Check it out here.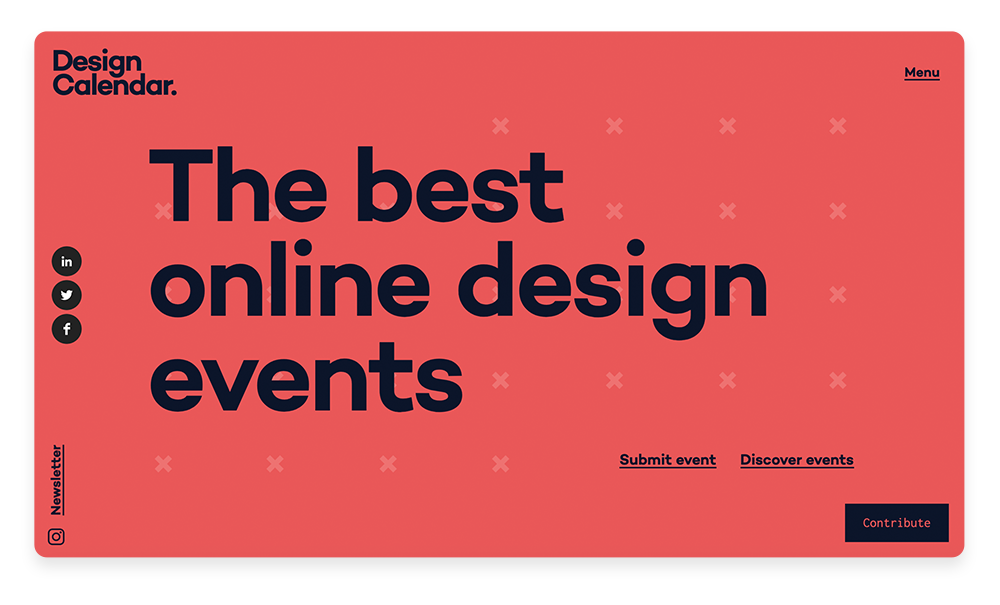 Dribbble
Similar to Behance, Dribbble is an online community for designers and creatives, with more of a focus on digital work. Expect stunning illustrations, super slick UX portfolios and all the on-trend transitions and animations you want on your latest web projects.
Awwwards
The clues in the name - an awards site for the world wide web. Daily awards for the most innovative and slickest web designs have grown into a huge archive of inspiring websites. Collections are curated into categories such as navigation, loading animations and even 404 error page designs. So if like us, you have a focus on component-led UX design, you can find the latest trends down to the finest of details on Awwwards.
Instagram
Love it or hate it, Instagram is an ideal way to build up some daily creative inspiration into your life. Follow designers, illustrators, photographers, curators and artists. The more you follow, the more inspiring your feed will become. Now you can save posts into customised collections using the bookmark icon. Also handy for food recipes!
@ux_trends
While we're on the subject of Instagram, a must follow for digital designers is UX Trends. Daily posts featuring the latest and trendiest UX designs - expect lots of visually pleasing app concepts.
Noma Bar
I'll finish with the king of negative space. Those moments when you think 'I wish I thought of that'... Well, Noma Bar has a book full of them! Noma's work often carries double meanings, yet are some of the most simplest of designs. If you ever need a reminder that less is more, look no further.
It's very easy to fall into the trap of just looking for inspiration when you need it. And that can become frustrating too, finding the 'right inspiration' becomes a task in itself.
So trying building a broad spectrum of inspiration into your everyday life - as part of your routine, subconsciously and pro-actively.  Start the day with a 10 minute browse of 'cool shit', read a book, follow other creatives - surround yourself with creative people, places & materials. And finally, go to events, online and offline. They don't have to be specific to your role, soak up those different ideas and ways of thinking like a sponge from anyone, and anything creative!
We're always on the lookout for events & sources of inspiration, so if you've got any to add to the list - get in touch or check out some our very own creative work.
---
---