What makes a great idea?
Many agencies think creativity is about taking chances. Most clients prefer to make safe bets. They're both (half) right.
The tried and tested route is more treacherous than you would think. Blindly follow what works for other brands and you can easily slip into irrelevance or worse, cliché. You'll never rise above competitors by just copying them.
But a unique idea – however clever, exciting or pretty – is worthless if it doesn't resonate with the right people. When you're fighting for ever-decreasing attention spans you have to really know your audiences before you can capture their imaginations. Who are they? What are their motivations? Where will they see you? Why should they care?
Focused creativity and strategic flair
Looks aren't everything. Gifted designers can and will craft your creative to perfection. But whether your brand is brash or beautiful, casual or professional – the one thing it must be is purposeful.
The best ideas depend on invention and intelligence, inspiration and intuition – all backed up by evidence based insights and experience. The best ideas people are also skilled strategists who know how to take a well-executed idea and make it earn.
Instant recognition, long-term engagement
At one end of the spectrum is the here and now. The art of initiating immediate action. It takes something special to command attention from distracted consumers or pre-occupied decision makers. A great ad that turns all the right heads, the enticing copy with the powerful call to action, new packaging that flies off the point-of-sale…
At the other end of the spectrum is tomorrow and the next day. Building a slow burning, lifelong emotional connection to your brand. Earning trust and achieving consistent cut-through. The alchemy of colour and shape, typography and tone-of-voice that combines to create a compelling identity.
Creative solutions with clear ROI
Access work for everyone from SMEs to global corporations, charities and the public sector. Our campaigns range from local and personal to international and inclusive. We are well-versed in multiple channels.
Digital and print. Television and radio. Direct marketing and outdoor advertising. Exhibitions, signage and POS. Live action video, animation and CGI.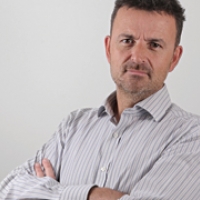 In need of a creative touch or idea?
Call Simon Landi, Managing Director, on 0161 872 3455