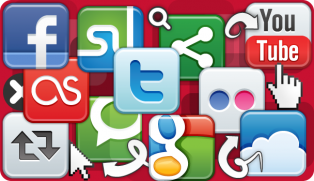 I was never one to disagree with the power of social media, nor was I one to advocate it.  As a recent graduate my usage of Facebook, YouTube and Twitter was only limited to the 'social' side of social media – uploading regrettable pictures, watching an endless amount of videos and following the cast of Made in Chelsea.  But as the newest member of Access [Hi!] I have, for the last month been in a state of information overload, exciting really; a prime example would be this blog, it's the first one I have ever written. 
Last Thursday I had my eyes opened, and as a result have come to terms with my naivety in believing I knew what was what when it came to social media. I can confess that there is more to it than meets the eye.
I was lucky enough to attend 'A Social Awakening', an introductory workshop to social media for business, held at MOSI, hosted by our own PR and Social Media Manager Nyree Hughes and Managing Director Simon Landi – you delivered an insightful and enjoyable workshop for us all!
Primarily, the workshop taught us about social media networking tools and strategies that can be implemented to make social media really work for business. On hearing the audiences' reactions towards the various sites and tools, I considered how overwhelming it must be for the uninitiated to put their business out there, online, to participate in real-time public engagement. With that in mind, I realised that the session wasn't just about teaching us how to best use Twitter or LinkedIn, it was about encouraging people to trust in social networking and use the tools available to enhance existing marketing activities.
It was encouraging to hear that the pros outweighed the cons and people's fears were put at ease, even the most doubtful of thoughts; from the fear of a drop in employee productivity to business security.  Yes, these are all risks, but by introducing guidelines and through rigorous planning there are processes to safeguard the business and its employees. 
See below my take on what was addressed:
Choose your platforms wisely
An important factor when venturing into social media for the first time: it's advisable to get to know which tools can best benefit the business. Once you have completed your research, when you know you have adequate resources and have a clear goal with objectives that clearly pinpoint what you want to achieve and how to achieve it – then it is time to take the plunge.  Be daring and jump in with two feet and have fun with it, but remember to always have your goals in mind and don't try to take on too much.
Listen, learn and reciprocate
Social media is people having conversations online – giving you the chance to get close to your audience through a myriad of means, from answering questions, talking to clients and prospects and researching what others think of your business and your competitors.
Easy Access
Social Media has grown exponentially in recent years, and the growth in mobile devices has helped this boom. It's clear to say that social networking is unavoidable especially now as its so easy to access and use and in business it is relatively low-cost. Putting aside time to engage with your audience can do a lot for your business profile.
It's about people to people
Ever seen Pay it Forward? About the boy who is given a school task to better the world and comes up with pay it forward? The concept is to repay a good deed not by payback but by doing better deeds for others. In a way, it's a similar principle to the viral nature of social media sites. The positive knock-on-effect social media has from one person to another, because ultimately it's you, your work colleagues, clients, and friends and so on!
It was comforting at the end of the workshop to see the attendees taking on board the benefits of using the social media and not being as worried to take part, once jargon and concepts were explained.
I guess the most important thing I took away from the presentation is that social media marketing can certainly draw traffic to your site and then clients to your business. Social media sites should be part of your marketing plan. The thing to remember is to build strong relationships, begin small, but be dedicated and watch it grow.
As the saying goes, "This is no time for ease and comfort. It is the time to dare and endure".
---
---