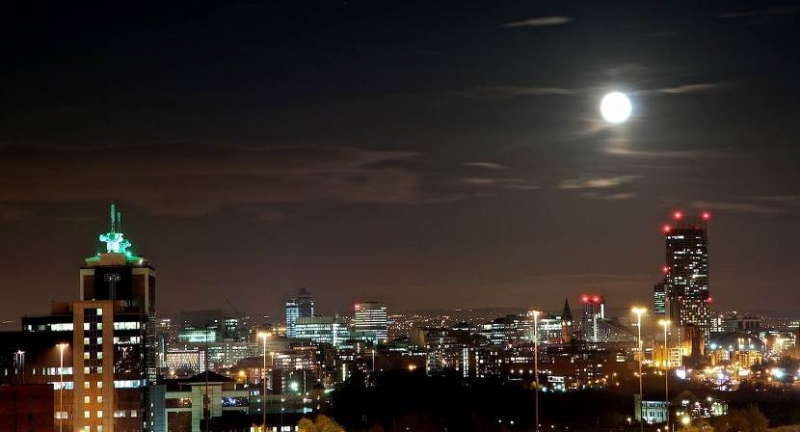 The leading lights of the Manchester creative scene got together recently to thrash out what it means to work in one of the world's most exciting creative cities. I've come away completely inspired!
The Creative Manchester event, run by the Institute of Practitioners in Advertising (IPA) and Creative Skillset and The Drum, included the very best of Manchester, from advertising and marketing to TV/ broadcast and games design – not forgetting our hosts, cloud service providers UKFast.
There was some spirited debate from the expert panel – although the affection for our history and enthusiasm for the future was clear from all. We're not done shouting about Manchester.
I've always loved this city, since I moved here from London in the early 1990's and think it deserves all the praise it gets – and some that it doesn't. So, here goes…
What makes Manchester ideal for the creative industries?
Are we just another insignificant northern town on an island off the northern coast of Europe? And hasn't the internet made geography irrelevant anyway? Well, not really.
The internet allows us to compete for clients at an international level and better serve home grown business. But the internet does not nullify the impact of geography.
Geography provides four differentiators:
Talent
Lifestyle
Infrastructure
Attitude
And in Manchester we have the perfect blend of all four:
Manchester Talent
Of course, we've got talent, hasn't everyone? What makes Mancunian talent different?
In addition to the big four factors above, we can add two more: Education and the Economy.
Education – according to Midas our talent pipeline includes 7,200 creative and media students in the city region and another 6,000 on computer-related courses. Our universities and other educational institutions are getting better at teaching the skills employers want and schemes like the Creative Pioneers apprenticeship programme is channeling a flood of fresh talent into Manchester agencies (including some impressive individuals who've just joined Access – look out for our apprentices update coming soon!)
Economy – The creative and digital industry in Manchester is considerable and continues to help drive the local economy, ensuring we can recruit and retain some of the best talent around. This is especially prevalent in the film and TV sector, with MediaCity and the BBC, ITV, Red Productions and Nine Lives Media.
Both talent and employers get more bang for their buck here. Average wages are higher in London, but London lacks Manchester's wealth of options to live however you want while retaining a great quality of life. In spite of its popularity, Manchester remains a cost-effective location, something that is reflected across the board from housing costs to leisure and entertainment.
This makes it the ideal hub to attract talent just starting out in the industry and means we have a bright future ahead of us.
Manchester Lifestyle
Some might say, that we like to 'paarrty' here in Manchester. But we also have a rich and diverse culture. Whether it's world class sport, high class theatre or comedy, food inspired from around the world or just a good old pint of ale, Manchester will surprise and entertain you. In fact, Manchester was named by The Economist Intelligence Unit in 2013 among the world's 50 most liveable cities ahead of London, New York and Rome.
From the City Centre rippling out into the natural beauty of the Pennines and the Peak District, there really is something to suit every lifestyle in Greater Manchester.
Manchester Infrastructure
Uniquely connected for digital communications, Manchester is home to thriving digital and knowledge industries, relying on the second largest digital infrastructure in the UK and it is the only global internet exchange hub outside of London.
We have the road, rail and airport links that make a truly international city. We have the means to communicate and collaborate effectively with anyone.
Manchester Attitude
But finally and most importantly Manchester has attitude – and the right kind of attitude. We have that 'can do' attitude that provides us with our unique identity, our competitive edge, our value proposition. 
And we are experiencing the value of this attitude with everyone we meet. Access have recently picked up several pieces of global business from London due largely to our personal approach, our exacting service standards and a bit of Northern charm. In fact one London-based global client went as far as to say "…I really can't recommend the team at Access, and their work, highly enough. I thank my lucky stars that we found them!"
But as suggested by Lewis Blackwell from The Drum, at the launch of creative Manchester earlier this week, London is neither our enemy nor our competition. We complete in a global arena and the sooner Manchester realises this and looks to sell its competitive package to the world the better.
Who will make Manchester even more successful?
Which brings me on to the final part of this piece; who is responsible for improving Manchester's creative output? Marketing Manchester look after our inbound tourism, Midas our inward investment and Manchester City Council lead on our infrastructure. But who sells our services to the world? Who communicates this can do attitude to global audiences?
We do!
But wouldn't it be great if we all did it together?
Collaboration is the key to Manchester's future – we need to make time to talk to each other and create compelling new offers. It's not about being all things to all men, it's about letting specialists unite to do what they do best to the mutual benefit of everyone.
Do you think Manchester deserves the praise?
I love Manchester, clearly. But feel free to comment if you don't agree! Like the Scottish independence campaign, public debate on the future of our city can only be a good thing for residents and the Manchester creative industries.
Check out this video from Reebok exploring the tension between Manchester's famous cultural past and the vibrant, creative city of today.
---
---