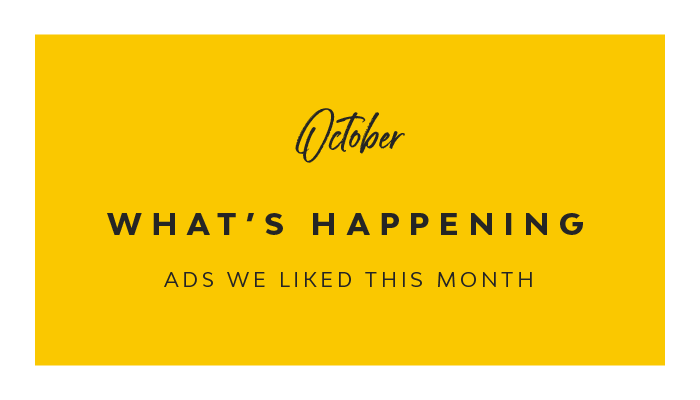 Before it's time to discuss the latest festive ads (although we're starting to see the first few emerging!) in October we saw several UK household brands showcasing a refreshed side to their personalities with some innovative adverts. Whether it's the pandemic causing a shift to more positive and humorous ads, or brands are opening up more to reach new consumers - it's been a great month for outstanding creative campaigns, so why not take a look at our top 5.
1. Movember
To start with, we took a look at 2020's Movember campaign. Movember is an annual event and global organisation tackling a wide variety of men's health issues from mental health and suicide prevention, through to prostate cancer and testicular cancer awareness and support. The month long event encourages sponsorship for growing a moustache, with money raised going to men's health projects world-wide. A serious cause, this year's advert took a more humourous slant. Because whatever you grow will save a bro!
Account Executive, Abby, felt that "the ad keeps a lighthearted tone throughout whilst uncovering the struggles some men face and it's really effective and emotive in showing the ways the charity can help." This fun, fresh and inspiring campaign talks to all walks of life and experiences, and translates well across outdoor advertising too.
2. Aldi
Next up is Aldi, who's traditional focus has been on the products they sell, and in particular, positioning their products through price comparisons. This has meant the majority of their ads have been filmed within a store, or at home with consumers. Their latest ad however, is literally thousands of miles away...
A complete u-turn on their normal campaigns, this is an aspirational and scenic advert rather than the usual 'it does what it says on the tin' approach. Watching this initially, Bethan, our Marketing Manager, wondered if people would guess that this advert was even for Aldi, as it's several frames before we understand who the advert is for.
Using the consumer culture around the mystery of the 'Aisle of Aldi' as the focus of the ad, it comes off as a spiritual experience they're creating rather than just a supermarket. "This is a fun style and personality that suits the Aldi brand, it's aspirational and attention grabbing by mimicking similar style ads, with added humour interspersed with the voice over and placement of products - it is quintessentially tongue and cheek".
3. John Lewis
From one end of the shopping spectrum, to the other. John Lewis is famed for it's innovative and emotional (and sometimes tear-jerker) adverts come Christmas time. In this pre-Christmas campaign however, John Lewis has stepped out of their well-known shell to produce something refreshing and fun instead.
Brought to the table by Adam, our Creative Team Lead, he said "The music makes this ad. It builds intrigue really nicely and then leads us into the 'new norm' in a fun way." By setting the advert in our current lockdown lives, the ad hits the mark with what is possible currently across homes in the UK, while the storyline adds fun and mystery to showcasing a wide variety of products.
4. Ebay
Around for over 25 years, eBay has recently run a few eye catching campaigns. In the latest, the 'Puzzle' campaign, it's all about incorporating objects into your lifestyle that are the perfect fit for you, whether you need to sell old items or bring in new ones.
Set in a story of two people moving in together, it shows more than just bringing belongings together, but about compromise and change - two things that are at the heart of why people might be selling on eBay. They have done well to flip the narrative on the head, it's no longer 'what' you might be selling that will attract you to using eBay, it's now more about the 'why'.
5. Berlin Senate
And finally, as we enter another UK national lockdown, we can't miss yet another creative pandemic/mark wearing ad campaign - this time, from the Senate in Berlin. They placed an ad in local papers as part of a public information campaign, and it shows an elderly woman presenting her outstretched middle finger to the camera, next to the words: "A finger-wag for all those without a mask: we stick to corona rules."
Talking to The Guardian, they said "We wanted to use a language that suits the Berlin character and that underscores the dramatic pandemic situation – and that we managed". Frankie, Head of Client Services, spotted this ad in particular because across the globe we've seen a variety of polite messages aiming to encourage people to wear masks, so this refreshingly 'direct' message stands apart from the crowd.
BONUS...
If you haven't quite got your fill of creative ads, we have a bonus one for you this month! Although not a household brand per say, we couldn't not mention Pornhub's Toys 'Not my job' campaign. The music, the lyrics, and the mixture of 'characters' - this ad definitely reaches new heights across the board. We'll leave you with the ad to make up your own minds..!
---
---