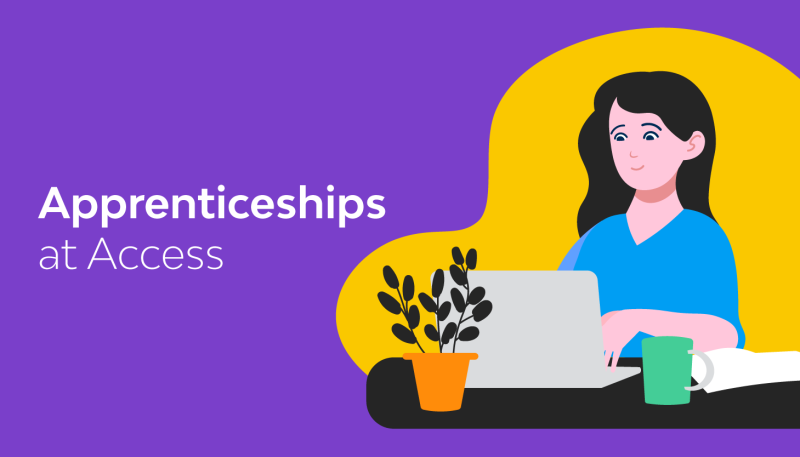 Access has been a firm believer in apprenticeship schemes for a while now. This dates back to 2016 when our first ever apprentice, Jake, joined via a Drupal Apprenticeship Scheme - he is now a talented Senior Developer. 
In 2019 we hired our first degree apprentice from MMU, Ben, who is now enjoying his third year here. In the years that followed, we've had Jon (2020), Isabella and Eleanor (2021) join us too. 
With a total of 4 currently working with us under this scheme, we wanted to share how we nurture and develop our apprentices, and get one of our recent degree apprentices, Eleanor, to walk you through how it works.
Isabella and Eleanor both joined in August 2021 as Digital Technology and Solutions Apprentices as a result of our partnership with Manchester Metropolitan University. 
Eleanor joined Access after a change in career direction. Here, Eleanor gives us insight into her journey so far: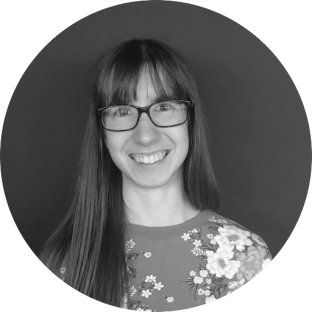 "I have been at Access for over 6 months now as an Apprentice developer. I looked for an apprentice role in order to learn alongside gaining work experience. As a career changer this kind of approach seemed like it would provide the smoothest transition into a new job field and mean any training could be immediately applied to a real life circumstance."
Technology Focussed Training
At Access, the initial apprentice projects focus around getting to know our key technologies; Drupal and React. In the past our apprentices would take each project one at a time and get to know the systems through self-teaching. This year, however, with two apprentices starting at the same time, one started on the Drupal project while the other started on the React project - the aim being that they'll swap over once completed and will be able to offer support to each other on the second project. Encouraging individual learning, but also peer mentoring from the get-go.
We also encourage individual project work and to look at further technologies that either might be relevant to project or uni work, or simply to widen their knowledge-base. One recently trained in the Node.js framework called NestJS which has actually resulted in making improvements to an internal system, as well as expanding their own expertise.
Regular Touchpoints and Team Support
"The training is mostly learner-led, which gives a lot of freedom to feel out the intricacies of Drupal or React. A catch up happens every two weeks at a regular one-to-one session which gives an opportunity to review the progress so far and receive pointers about where future progress should be directed."
Between the one-to-ones, YouTube tutorials and using Drupalize.me to help with guidance on projects, our apprentices are exposed to a lot of learning resources, but we feel the most valuable resource is having access to their coworkers and practical guidance from the team. We're structured in Squads, which are basically small teams. Each squad has a balance of mentors that support the development of our apprentices and juniors, this is usually through code reviews on all code commits and on-the-job coaching. From providing demos and walk-throughs, to providing clarifications on Slack or giving tips and suggestions - the best support is our very own senior developers. 
Mixing Work with University Project Work
This apprenticeship allows an individual to study and earn a Digital & Technology Solutions Degree, while also experiencing working full-time with a salary, plus other benefits of working in a professional environment. So alongside the day to day Access work, the university will set project work for apprentices to complete as part of the degree that they need to balance.
"I make sure to work on this project at least a little bit each working day. I am in University one day a week and the rest of my week is split between training and billable work in the Maintenance and Support team. I like to put aside at least an hour minimum each day, so as to maintain momentum and make sure I don't put the project on the back-burner."
Building Confidence
Not only does this apprenticeship encourage self-led learning, adding the work element alongside the degree, our apprentices are exposed to worklife scenarios which provides the opportunity to learn new soft skills such as time management and communication.
"Since I am leading my own learning on the project, if I don't make sure to defend time for it, it will inevitably be pushed aside for other work and training commitments. Because of this, I have had to learn to be a little more outspoken. In fact I have faced difficulties in time management at times because I have taken too long to ask for help with projects, so planning out my time and communicating with other team members promptly are among the key things I have learnt."
Building Careers
Our degree apprentices are part of a 4 year degree course. Our apprentices continue to be a source of pride and inspiration as they grow with us. We're excited to continue to grow the team with the program run by Manchester Metropolitan University into 2022 and beyond.
Are you interested in joining our Degree Apprenticeship program? We have a spot open to start in September 2022, with the deadline to apply this Friday, 25th March. Check out the role and apply here.
---
---