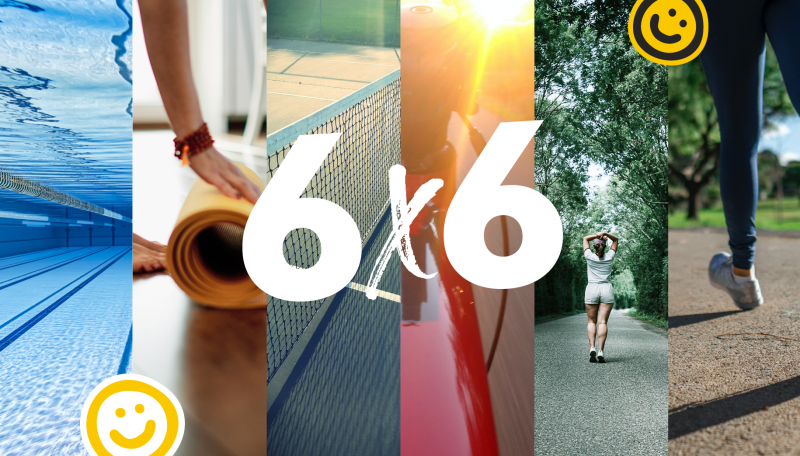 Autumn for most people might mean nights drawing in, temperatures dropping and the heating being turned on - it's mostly the same for us at Access. However, this autumn, we've encouraged the team to maintain the great habits that were so easy to adopt over the summer, and take opportunities to get out and move during the day.
Introducing the 6x6 Active Autumn Challenge: 6 weeks, 6 activities, 2 teams and a healthy dose of competitive spirit.
We are now halfway through our challenge, which is aimed at motivating people to move more and to try out new activities, as well as coming together as a group outside of the normal day to day. And as it starts to get darker in the mornings and evenings, taking the time to workout in the middle of the day is becoming increasingly important. So this challenge is all about encouraging our team to take time away from their desks in the daytime to get active, with an extra added bonus of competition thrown in.
Here's what we've been up to so far, and how we've been getting along...
The Challenge
We started on 27th September and we have been moving for the past three weeks across 6 activities. From walking and running, to cycling and swimming as well as both fitness classes and group sports - if you're moving, it counts. 
Each activity completed and logged on our Strava group earns us points, and we all know what points mean... prizes! We are split into two teams, the Greens and the Pinks and the team who has the most points at the end of the 6 weeks wins bragging rights for the rest of the year.
The idea is that if you are a keen walker but have never tried a fitness class before, or you're used to working out alone and want to try a group activity - we hope this challenge motivates everyone to try something new. It's also allowing us to take part in physical activities across our hybrid team even if we can't be physically together. Whether they're taking part at home, in the gym, via online classes or in the office, this challenge is for everyone, and we've all been giving each other Kudos along the way.
Each 'Wellness Wednesday' of the challenge we have been organising joint activities for everyone to add some more points to the total. So far we have taken part in a yoga class streamed on Zoom from Trafford House and also encouraged 'Deskercise' - 5 to 10 minutes exercising at your desk to pick you back up and avoid that mid-afternoon slump.
The halfway point
Week 4 starts today with a focus on walking, and the scores so far are:
The dog-walkers of the group have been absolutely smashing it with regular daily walks adding to both team totals (looking at you Sue and Phill!). We are also seeing a great mix of activities logged: from badminton and spinning classes, through to early morning runs and yoga DVDs. Even a mid-challenge cycling holiday from Lewis has helped to tot up some points (ultra-competitive or previously planned, we'll never know!).
To keep team encouragement going, we have also assigned two team leaders. For Team Green, we have Project Manager, Louis, and for Team Pink the leader is April, our Junior Designer:
Not only has it been good to get out and exercise for the challenge but it's also been super fun leading the Green team. We're all collectively thinking of ways to earn more points and motivating each other to do our bit. Well that, and the added pressure to beat the Pink Team! Go Greens! - Louis
It's been great to get people moving and away from their desks, as exercise is really important for our mental and physical health. Especially when you spend a lot of time at a desk! The Pink team have just taken the lead too so we're in it for the win! - April
With three weeks left to add to the scores, we have a team virtual walk planned, (with a Strava Art mini-challenge - watch this space to see whether we can create the next Picasso masterpiece walking in our local parks!) a fitness class to join in on and the grand finale will feature exercise bikes in the office and a chance to add some last-week points! 
Overall it's been great to see people to get away from their laptop at lunch and stretch their legs, and hopefully this will serve to remind all of us that you can incorporate daily activity into the working day benefitting our overall mental health as well as the physical.
Challenge Scores
To keep up with how the scores are coming along, you can check on the up to date stats for the last half of the challenge below:
And make sure to check back in on 8th November when our winning team will be announced!
---
---