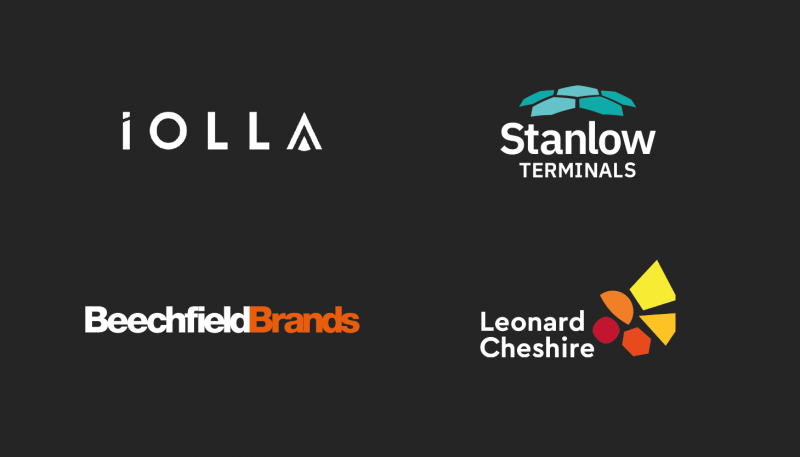 In the first quarter of 2021 we excitedly signed up four new clients. Won virtually while remote working, we are proud to welcome international charity Leonard Cheshire, textile accessory business Beechfield Brands, eyewear retailer IOLLA.com and tank storage business Stanlow Terminals to our client roster.
From research and strategy, to digital marketing and website development (and everything in between), take a look at how we'll be supporting our new clients below...
Stanlow Terminals
Stanlow Terminals owns and operates the largest tank storage facility in the UK and has big ambitions to drive increased business through its digital capabilities.
We have been appointed to develop a new digital identity and website design, by expanding its digital brand and digital marketing to better communicate its range of services and ongoing achievements to customers. This covers everything from brand identity and positioning, a new website design, the creation of visual assets and video, and lead generation through e-marketing and social media.
Zara Giles, Chief Commercial Officer at Stanlow Terminals, said: "We've appointed Access to help us transform how we will communicate our brand and business to key audiences. Access showed that they understood our company and demonstrated an ability to deliver what we need – from brand identity and positioning through to e-marketing.
"We have a clearly defined long-term vision to maximise the site at Stanlow - manufacturing, processing and storing fuels of the future and utilising road, pipeline, sea and rail for in and outbound transportation; showcasing our capabilities and driving awareness is now vital in our growth." 
Leonard Cheshire
A leading international disability charity, Leonard Cheshire supports disabled people to live their lives as freely as they choose and campaigns for a society where people with disabilities have the same education, employment and other opportunities as everyone else. Its goal is to change attitudes towards disability and support disabled people around the world.
Being appointed as their digital partner, we will support Leonard Cheshire's London based team's aim to enhance the charity's digital presence and user experience, and to broaden the international reach of its work, which spans policy, research, education, employment and events.
 
The charity's website is an essential element in its operations, not only to communicate what services it can provide, but for reaching donors, supporters and fundraisers to provide event and project information and drive donations. In 2020 it supported 61,000 disabled people in the UK and internationally, the vast majority through education, employment and community programmes.
Calling on our charity experience, particularly with WaterAid, we will be providing a full service digital programme – from supporting the charity in its choice of digital products and implementing best practice design, to undertaking site usability studies and website development to ensure it delivers an effective user experience.  
Beechfield Brands
Our next appointment is to support and to build a future-proofed digital platform for B2B textile accessory business Beechfield Brands. Operating across Europe, Beechfield provides a range of products that can be branded or personalised by its distributors and authorised network of garment decorators throughout Europe. Ideal for commercial and educational audiences, its accessories range from personalised, printed or embroidered bags to headwear.  
With our remit to transform Beechfield's five websites to create a digital experience platform that reflects the business' creativity, innovation and core values, we can't wait to get stuck in. While the platform will continue to be non-transactional, it will seek to inspire and leverage eCommerce design conventions in areas such as navigation and product search functionality, to improve the experience and usability of the websites as a sales channel/for its trade buyers.
The new site will cater for every tier of customer, from large distributors to promotional product suppliers. CMS and design updates, digital asset management integration and system integration will all be added to the site's capability.
 
IOLLA.com
Another new client for us is online eyewear retailer IOLLA.com, which designs all of its own frames in-house with hand-finishing touches.  
 
We will be creating a new consumer eCommerce experience for IOLLA, migrating its front-end experience onto the Acquia Cloud DXP and integrating Shopify as a headless order management system, while also providing both UX and design consultation.
 
The activity will support IOLLA's next phase of growth and enable the brand's marketing team to create campaigns and content with ease as well as deliver more tailored communications. The business is based in Scotland and as well as its online store it has three showrooms across Glasgow and Edinburgh.
Mark Hope, Digital Director at Access, said: "It's fantastic to be partnering with such diverse and interesting organisations as they invest and focus on improving their digital operations and customer experience.

 
"It's a credit to our team's continued hard work and development of services that we can meet the different needs and challenges of all these organisations. With specific sector and technology expertise to call on, we are looking forward to supporting their ambitious plans." 
---
---