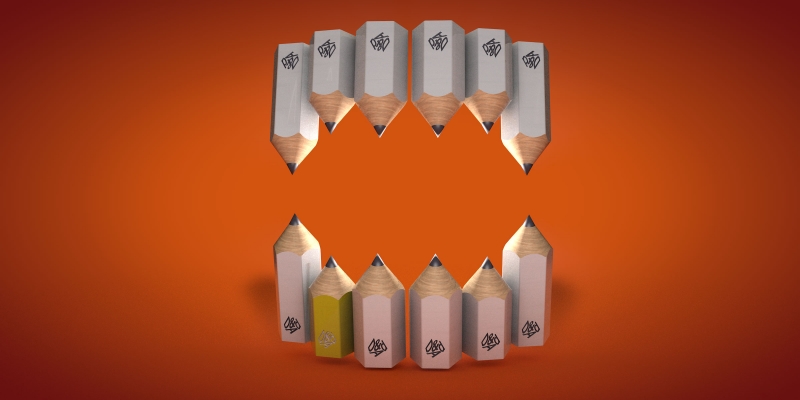 This year's awards season has had some serious bite. All of the award winners featured in our list are adverts with teeth - they shock, hold your attention and sometimes, make you laugh. Provocative and inspiring in equal measure these are the adverts we loved from the 2016 awards season. 
1. Bacon (500 years of stories)
Tate Britain
Agency: Grey London
Award: D&AD Wood Pencil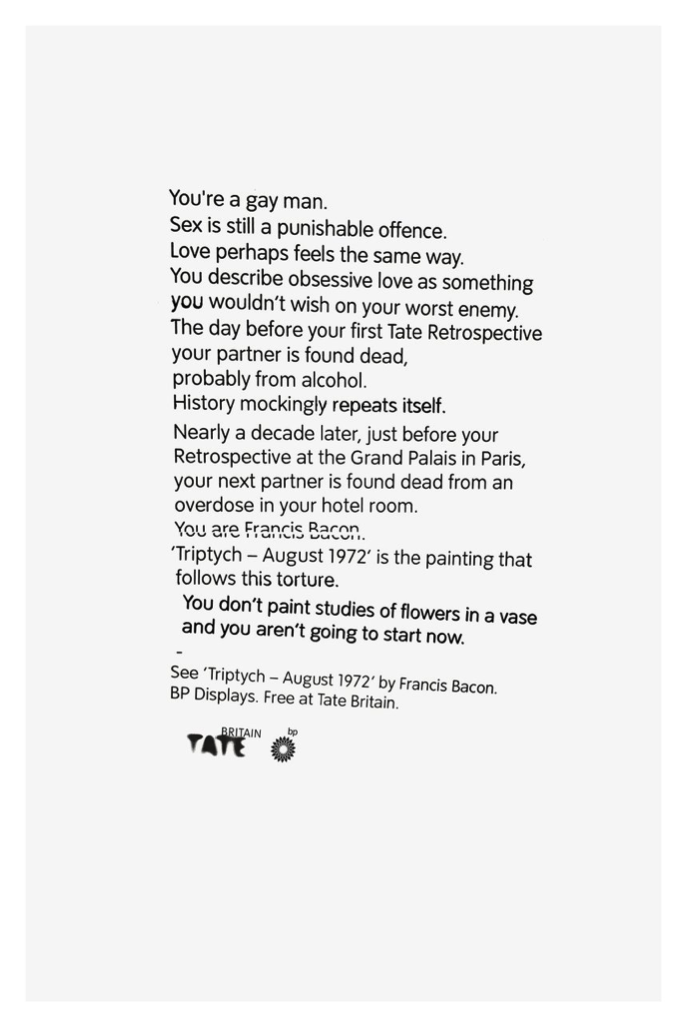 Sell a painting with only words. This is the noise-disrupting idea behind Grey London's 500 years of stories campaign for Tate Britain.
The piece pictured above tells the stories of Francis Bacon's three tragic lovers. The viewer is placed into the story through the use of second person perspective. Words are distorted, as if they've been copied and pasted; they become disfigured just like Bacon's subjects. The raw, emotional subject matter is also conveyed through the type. Just at the point of revelation; 'You are Francis Bacon' the words shatter, creating a visual break for the reader, a reward for reading until that point. The artist's name is the penny dropping.
Provocative, disruptive and poetic. Grey London's advert is everything an award entry should be.
2. #MoreWomen
Elle UK
​Agency: Anomaly 
Award: D&AD Wood Pencil
You can't be what you can't see. This long held feminist mantra is never clearer than in Anomaly's video for #MoreWomen. Take out all of the women in male dominated work forces, and what are you left with? Often just one or two women. If a picture paints a thousand words, then this video speaks volumes - it shouts its message. Where are all the women in the decision-making rooms of politics, TV and film? They're virtually invisible.
8 million hashtags later and a movement is born. #MoreWomen in power.
3. Sexy Times
Tiger Brands
Agency: TBWA/ Hunt/ Lascaris Johannesburg
Award: D&AD Yellow Pencil 
What if you take a sideways glance at something as unglamorous as pest control? You end up with a character driven campaign that has bucket loads of humour, that's what. TBWA's campaign for Doom insecticide gives a dialogue to two characters you may not want to hear from; the cockroaches living under your fridge. The imagination behind this campaign won them a D&AD Yellow Pencil award and it's easy to see why. It's funny, sells the product and really makes you listen.
4. Condoms for Conservation
WWF
New Blood Entry
Award: Wood Pencil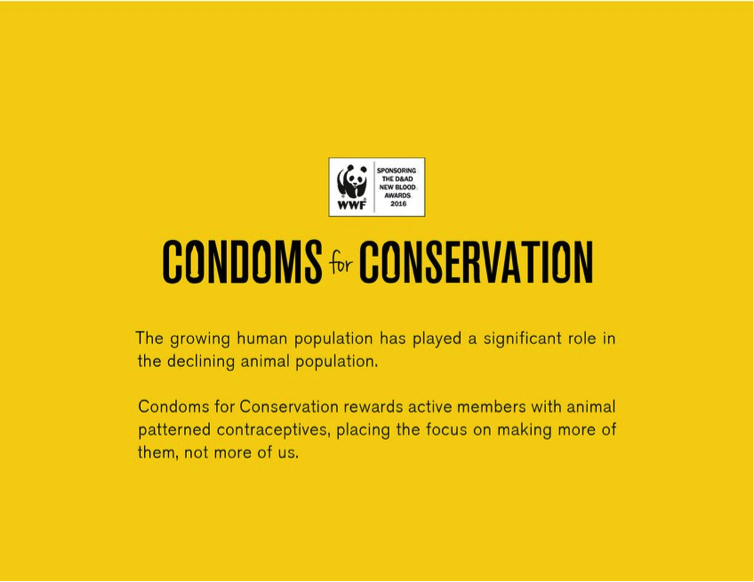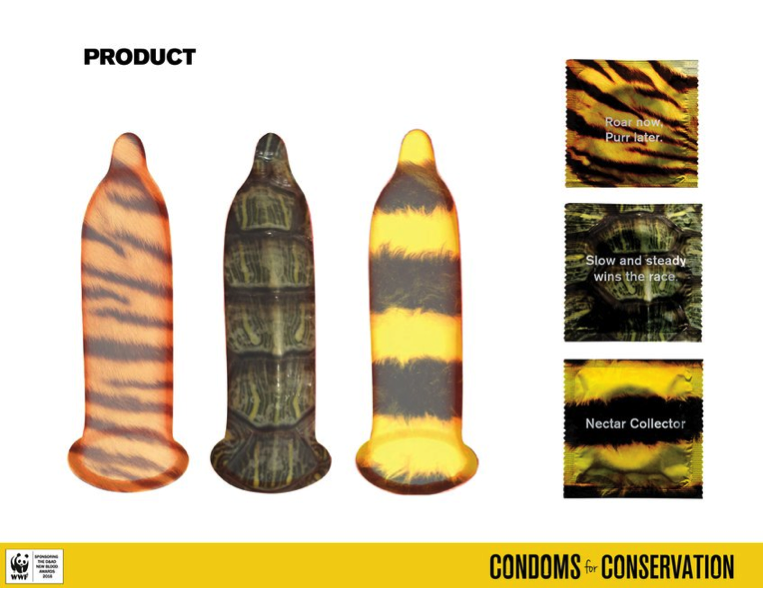 This New Blood entry for D&AD shows that the future creative talent in the UK has a sense of humour. Just look at that copy on the condom packaging; Nectar Collector, Roar now, Purr later. It's a copywriter's dream brief, and it's ultimately got a good message at its core. Don't procreate, but still have fun. Do it for the tigers - what a come on line.
5. Art Heist for Good
Water is Life
Agency: Deutsch, New York
Award: Cannes Lions Titanium nominee
Imagine creating something beautiful in one of the worst places on Earth. Then imagine it slowly deteriorating and it stops serving its purpose; to provoke and inspire. Deutsch New York recognised this problem and set about on a two-year journey that eventually saw them raising $400,000 for WATERisLIFE, a charity that helps those in one of the most violent and dangerous places on Earth. Steal art, help the poor. A brilliantly simple idea, executed beautifully.
6. Valentine's Day
Interflora
Agency: Tapsa Y&R
Award: Gold Cannes Lions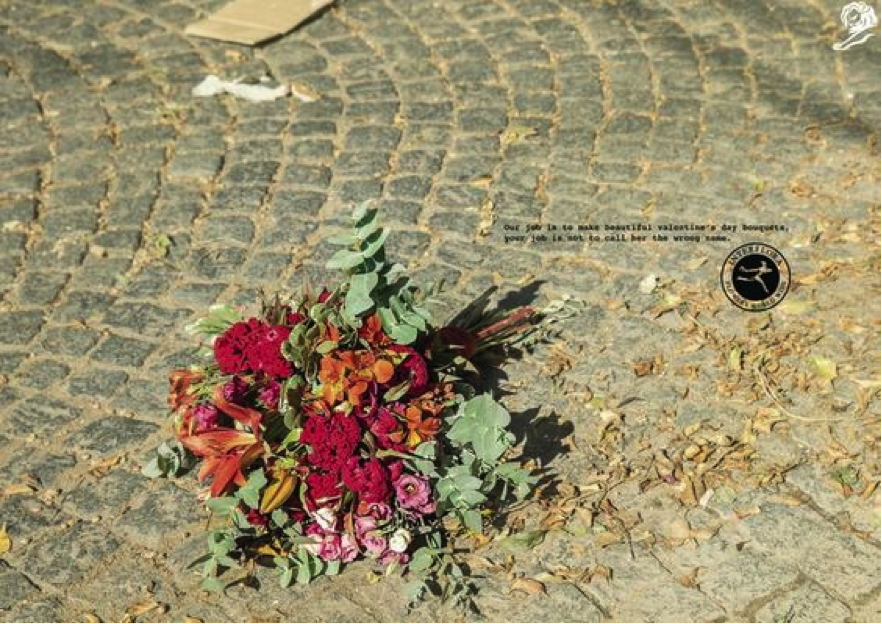 Start your scene late and leave early is an adage obeyed by many writers. Tapsa Y&R's advert for Interflora is the perfect execution of this concept. In a series of print ads, we're presented with the aftermath of arguments where flowers are abandoned in uninviting spaces; dustbins, the floor - anywhere you wouldn't want to see flowers.
Then, the supporting copy paints a story - how did the flowers get there?
The copy for the above advert reads: "Our job is to make beautiful valentine's day bouquets. Your job is not to call her the wrong name".
7. The Next Rembrandt
ING
Agency: J. Walter Thompson Amsterdam
Award: Gold Cannes Lions
How do you show ING's commitment to Dutch arts, and the sponsorship they provide to some of the finest art institutions in the world? You create a piece of art by one of the most famous Dutch painters in history; Rembrandt - and you do it 350 years after his death.
By analysing some of the most famous works from the Dutch painter ING were able to recreate his techniques; including the typical rise of paint off of a canvas, brush stroke techniques and light composition. Cue the awards.
8. Smiling
Thai Health Promotion Foundation
Agency: Saatchi & Saatchi
Award: Gold Cannes Lions
Do you know what's really gross? Those adverts on the back of cigarette packets. Do you know what's even worse than that? A composition of all of those deformed people into one zombie-nightmare-inducing image. The message taken from this advert is simple; smoke and you'll turn into a zombie. Or something similar.
9. Best ad without a headline
Specsavers
Agency: The Marketing Store
Award: Chip Shop Award
Imagine writing a strapline so famous you no longer have to write it on your ads. You're lying if that line wasn't the first thing that came into your head.
10. Best ad without a visual
Waterstones
Creative: Jon Sharp
Award: Chip Shop Awards
As something that copywriters often shout in the face of the less literary inclined, this advert spoke to me pretty directly. Oh, and it's a clever play on words. Chip Shop at its finest; funny, adroit and irreverent.
Who have been your favourite award winners this season? Let us know on Twitter.
---
---