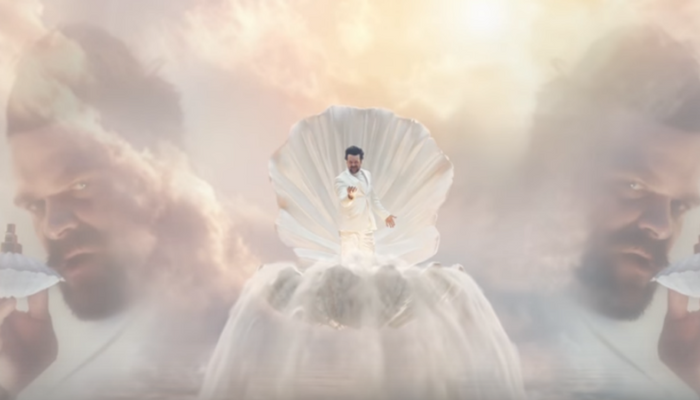 Get comfy, grab a cuppa and put your headphones on - it's time to take a look at the best adverts of 2018 so far. From lounging lions to self-aware detergent commercials to spine-tingling charity adverts, 2018 has already debuted some potentially award-winning work.
Which one of these adverts is your favourite? Let us know @weareaccessmcr. And, If you'd like to glean even more inspiration, take a look at our funniest ads of 2016 and 2017.
Tide's Super Bowl Advert
Super Bowl adverts tend to dominate the first quarter of the year, and it's easy to see why with this irreverent execution from Tide. Featuring Eleven's adoptive Dad in Stranger Things (David Harbour) and a bunch of cliche advert tropes, Tide kills it with  this self-aware spot. From Harbour's monotone delivery, to the cleverly understated tag line at the end, Tide firmly seats itself in our favourite ads of 2018 so far.
Range Rover Evoque's Speed Bump Advert
Range Rover's advert is a crystal-clear example of absolutely nailing the single-minded proposition. "Born in the wild, adapted to the city" perfectly brings together Range Rover's audiences - those that work in the city then play in the country. And they've managed to pull it off with a bit of humour. It's certainly one of the most refreshing car adverts we've seen in a while.
Ikea's Lion Advert
Lions seem to be popping up everywhere at the moment, and Ikea is no exception. However, what makes this lion special is its laissez faire attitude and delightfully tactile appearance. He looks like a lion from a costume shop, which helps to give the advert a homemade, friendly feel. And, of course, the products look great shot in low-key, dazy lighting. This lion has stolen our hearts - where's that catalogue?
Neighbourhood of Good's Following Advert
We had to throw a tear-jerker in the mix and, unsurprisingly, it's a charity making us cry. Neighbourhood of Good's 'Following' advert is so understated and deceptively simple, it's easy to forget it's an advert at all. It perfectly taps into that thing we're all guilty of; turning a blind eye to those that need help. It's so relatable as well - it can feel a burden to help those that need it most with so many messages being thrown at you, and this advert helps to alleviate that guilt with a simple CTA; "You can lift the weight of caring, by doing." We sincerely hope it picks up every award going.
Nike's Nothing Beats a Londoner Advert
Who hasn't seen this advert? Because you've been under a rock if not. This advert has made our list largely due to the conversation around it; we can't remember the last time a sports brand advert got this much hype. The craft involved in every scene is mind (and budget) blowing. The cast of characters paints a fairly accurate portrait of London. In many ways, it is a triumph. What do you think about it? Does it earn its "One of the best adverts ever made" title? You be the judge.
Royal Yachting Society's Nothing Beats a Sailor Advert
Clearly, the impact of Nike's advert has already been felt, as The Royal Yachting Society stepped in with their own (budget) version. Some might say it's strange to so blatantly nick another creative team's idea, but here we are, and in many ways this advert is a good piece of work. Its reactive nature helps the brand to ride the coat-tails of Nike's advert, and it gets across the adventurous, brave nature of yachters. What do you think? Is it a win or a fail?
---
---