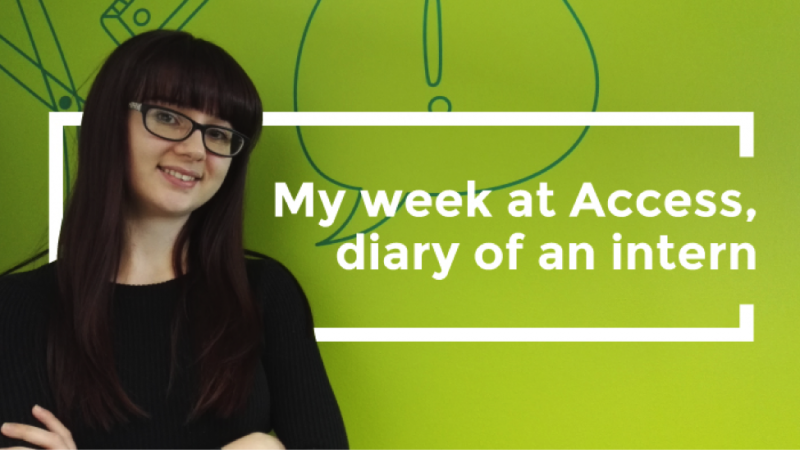 A few months ago my friend (and Content Manager at Access) Ruth Hartnoll turned to me and said;
"You'd make a great copywriter. Why don't you come and work with us for a week?".
It was an offer I couldn't refuse.
Fellow budding writers will know how difficult it can be to even get unpaid experience in a 'proper' creative environment.
Copywriting internships are hard to come by, so I was thrilled when I heard that Access were happy to have me on board.
Day 1 - An introduction
I'm the new girl in the office. I come from an English and Creative Writing background, but I've never written copy before. Ruth gives me a rundown of who Access are, what they are about and what they have done. I'm impressed and super happy to be here.
We talk through different types of copy and various copywriting jargon.
Key takeaways
A H2 is (a sub-heading, in layman's terms) and how important they are for SEO ("Keep it specific and precise", says Ruth).
What an Alt tag is. These are applied to images and I learn that these can be used to allow blind people to 'see the image' by having it audio described, which I think is amazing.
What goes into a pitch (more of that tomorrow).
Copywriting is definitely not just writing, there's real skill involved, and it interests me more by the minute.
In the afternoon, Ruth assigns me my first task. I am asked to edit Drupal Developer Michael Trestianu's drafted blog about Drupalcon, an event he attended recently.
I've never heard of Drupal before today and most of the content is like another language to me. I set to work neatening and defining Michael's words. I learn that a lot of copywriting is having the confidence to execute something.
Day 2 - Pitching
Then, we move onto pitching...
The brief is explained by Account Manager Sam King. Concepts are presented by the creative team.
Key takeaways for pitching
Details are important - it's the little things that make up the bigger picture of your campaign.
Research and random facts about a destination can define an idea - we spent a lot of the session learning about the destination and its history.
Looking at your adverts 'in situ' can really help - we researched travel magazines to see what the competition was doing and how the adverts might sit in the real world.
A staggering amount goes into a print ad. We all watch TV, read magazines and listen to the radio but we never think about the people behind those campaigns. It has also altered my way of thinking so that now, when I look at an advert, I wonder how they came up with the idea. I'm not sure whether this is a good or bad thing!
The day has reiterated to me that this job is hard work. However, I imagine the pay off is very rewarding.
Day 3 - Case Studies
Today is my chance to do some writing for Access. I am excited and hoping that I can deliver what they expect.
I learn what case studies are, what they do and what they consist of.
I'm set the job of writing a case study for a charity client. Ruth shows me past examples so that I can start the exercise with a solid reference point.
Key takeaways for case studies
Access has three different versions of a case study - they are used for different reasons and each one is more detailed than the last.
Speaking to relevant people really helps - Project Manager Ashley Johnson was able to explain all the benefits of the project which is extremely helpful and gave me the valuable information I needed to proceed.
They need to make us sound good - the writing really needs to reflect this.
The final part of the day consists of another creative brainstorming session regarding a multi-channel campaign. Again we look at previous ideas that have been discussed and select the ones that have the most potential and best concepts that could work across all mediums.
Day 4 - Write it
Today is one of production.
There are multiple tasks set up in my diary, starting with a press release.
Again, this is something I have never done before and Ruth explains the process to me by showing me one she made earlier.
Key takeaways for press releases
The snappier, the better - it needs to be eye catching and worthwhile, otherwise no journalist will bother reading it. This is also why we don't send it as an attachment.
Be kind to your colleagues - always mention them, link to their pages and write a short 'about me' section for them. They will do the same for you.
Photos are important - it gives a better sense of the event/story and leaves as little work as possible for the journalist reading it.
Ruth then asks me to turn this into a blog post for the Access website.
I make the piece more approachable and adapt it to the Access tone of voice to ensure that it fits in well with the rest of the content.
I then return my attention to Michael's blog.
It reads too long as it is, so I decide the best way to execute this is by creating a 'lessons' blog. I use the information Michael has provided and pick out 10 'takeaways' from the event.
Key takeaways for blogging
People need to want to read them - the content needs to be easily readable and interesting.
Pictures and hyperlinks are important - they build a better picture and create connections.
Tone of voice is important - the blog needs to fit in with the rest of the site content.
Day 5 - Last day
It's my final day here and I'm going to make the most of it.
I have a lovely chat with Managing Director Simon Landi about my week, my aspirations and my plan of action. I thank him for giving me this opportunity.
I wrap up all of the pieces I've been working on throughout the week.
Biggest lessons learned
Copywriting entails much more than I'd originally thought - there are so many technical aspects that have to be considered when creating content.
It's all about dedication - the hours and scale of work that goes into even one print ad is huge. But it's definitely worth it when you see the end result.
Creativity is catching - people feed off each other's' ideas and it's okay to seek inspiration from past work. It's not cheating.
Re-drafting is hugely important - I knew it already, but this week has definitely reiterated the fact.
I've thoroughly enjoyed my week interning at Access. Thanks for everything!
To keep up to date with Access, follow us on Twitter @accessdigital
---
---