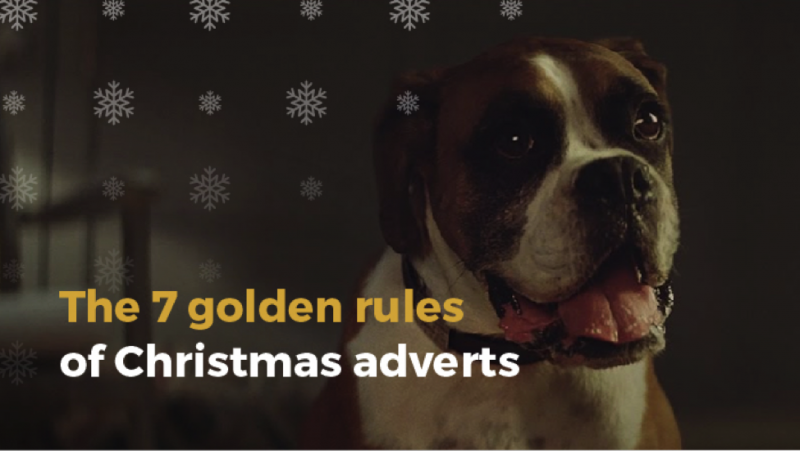 No 1: Feature a cute or completely made-up animal
Let's get this out of the way - here's Buster the Boxer from John Lewis. Last year they focused on people, this year we've got the adorable family dog, a badger, a fox and a whole host of other warm fuzzies that literally jump with joy on a trampoline. Argos' army of rainbow yetis are another good example of fantastical beasts making a Christmas advert all the more festive the more ridiculous the animals it features. What do you think of #BusterTheBoxer? With over 21.8 million views on Youtube, it wouldn't surprise me if you loved it.
No 2: Be animated
We can all debate whether James Corden's singing is a good or bad thing, but what is incredible about this advert is the animation. The scale of the world built, the emotion its characters pull, the imagination behind the mini-toy versions of the Dad, all add up to a spectacular visual feast for the eyes. Soft-edged, hazily focused and heart-warming, this is a Christmas advert that lives up to many golden rules.
No 3: Have a real tear-jerker moment
This time, we get a lesson in advertising from Poland's delivery company Allegro. The overarching story in this advert is so simple and brilliantly executed. It focuses on a common theme of Christmas - traveling to see family. We're presented with a character having an English language book delivered to his house by Allegro. Throughout the advert we see him learn English in various ways; he sticks post-its on items with their English names, he listens to tapes on the train, he sleeps with his headphones on. The climax is him travelling to see family in England. I defy you not to cry or feel your heart strings being pulled at the end.
No 4: Feature a poem
Aldi have long lead the way for Christmas advertising. This year's tale is of a carrot that wants to fulfil his ultimate Christmas wish; to be taken by Santa on a trip around the world delivering presents. But, to get there, he has to tackle small mountains (of potatoes), dangerous hazards (a Christmas pudding setting on fire) and potential death (leaning on a grater). He overcomes all of this and is taken by Santa to have the Christmas story he's always wanted.
No 5: Last between 2 - 4 minutes
Christmas adverts are big money and never is that money more evident than in their run time. Some of the biggest contenders feature long run times, and this M&S advert is no exception. Totting up 3 minutes in total and telling the story of the unsung heroine of Christmas, Mrs Claus, the advert goes to great lengths to show the effort Mrs Claus puts into helping out a little boy.
No 6: Feature forgotten people
Boots 2012 advert 'Here comes the Girls' was one of their most successful ever - it focused on a huge part of their buyers; women. This year, they've gone for a female focused campaign again, this time focusing on the half a million women that work on Christmas day. From nurses to fire women, everyone is given a 'Christmas makeover' to make them feel special. This advert successfully thrusts the people working on Christmas Day into the limelight and makes you pause to think; who isn't with their family this Christmas?
No 7: Have a certain level of audaciousness
I went to watch Fantastical beasts and Where to Find Them in the cinema the other day. Prior to the film starting this Burberry advert came on. More than three people in the audience turned to their partner at the end and said; I thought that was a trailer for a film. And it's easy to see why. Featuring acting heavy weights Domhnall Gleeson and Sienna Miller, the script is written by Academy Award-nominated Matt Charman and directed by Academy Award-winning Asif Kapadia. If audacious had a video dictionary entry, it would be this advert.
Read more from the Access blog
Enjoy this? Then we think you'd like:
The funniest advertising of 2016 so far
---
---