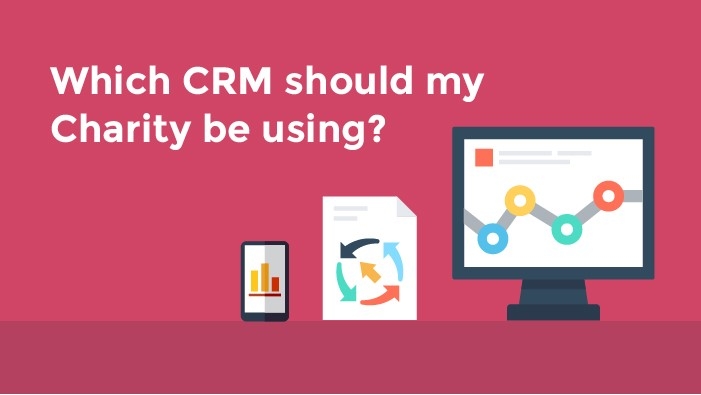 No matter what size charity you are, it's vital that you handle your relationships with donors, volunteers and beneficiaries effectively.
To ensure you're handling them in a truly integrated way, you'll need a CRM (customer relationship management) system.
CRM systems enable you to manage your customer information and interactions, automate marketing communications (through content marketing and other means) and provide customer support. It even extends to your employees, ensuring you're talking to everyone effectively.
In short, your CRM system is the gateway to more donations. It gives you a detailed overview of relationships and historical interactions with donors, potential corporate partnerships, and employees/volunteers. It allows you to plan and personalise more effective communication based on users' preferences, and build stronger profiles of your ideal benefactor. Ultimately, it will help you to continue and improve the work of your charity.
CRMs enable you to do this by:
Helping to nurture donor relationships
Plan marketing and sales communications more effectively
Personalise communications based on user preferences
Give you a clearer idea of your ideal donor
With recent ICO investigations fining the RSPCA and the British Heart Foundation thousands of pounds for data misuse, there's never been a more important time to handle your donor relationships safely and effectively.
But how to choose the right CRM? Our guide below explains everything you need to know.
MS Dynamics

MS Dynamics is powered by the software giants at Microsoft and is an easily adaptable product, depending on your organisation's needs. Big discounts are available to not for profits, meaning this product often comes out cheaper per user than some of its competitors. Couple this with its Microsoft-level support and it's a tempting choice for many non profits looking for a powerful CRM system at a price that suits.
Price: From £852 per user, per year
Best for: Bigger charities
Best feature for charities: Pricing and UX
Salesforce
Considered to be one of the best CRM systems in the world, Salesforce offers hefty discounts for charities. Pricing is per user, so it's important to bear this in mind for your budget. We often recommend this system due to its ease of integration with Drupal (our CMS of choice) - and the results it achieves for the not for profit sector in particular. It's by far one of the most reliable systems around and trusted by thousands of customers worldwide. However, as pricing is per user it's important to think about the size of your organisation vs the cost of having individuals as users.
Price: From £350 per user, per year
Best for: Smaller charities with lower numbers of users
Best feature for charities: 10 free subscriptions
Donorfy
Donorfy is another well-trusted CRM tool which enables users to manage donations, Gift Aid, memberships, individual giving and many other features. One of its biggest benefits is its unlimited users option. If you're a charity or not for profit organisation that is experiencing rapid growth, then Donorfy is a choice that grows with you.
Plus, pricing starts from FREE, which is everyone's favourite price. Not only that, but Donorfy ranked as the number 1 one charity CRM system in Fundraising Magazine's 2016 survey, thanks to its expertise working successfully with The Hunger Project UK and Trees For Cities amongst others. As such, it is trusted by many charities to handle their relationships.
Price: From FREE - £839 per month, not per user
Best for: All sizes
Best feature for charities: Unlimited users
Bloomerang
Bloomerang's focus is on making your user experience as easy as possible when using their tool. Their whole business is focussed on stripping away unnecessary add ons and delivering a product that helps you to increase donations. It's one of the easiest CRM tools to use thanks to its user-centric design and delivers an uncluttered dashboard frees you up to concentrate on other tasks.
Price: From £960 per year for up to 1,000 records
Best for: All sizes
Best feature for charities: Based on the amount of records your charity holds, rather than users of system
Need some advice on CRM systems or data handling?
Luckily for you, we're just the people to talk to. Download our super handy guide to data protection for hospices (all of the information in it is also applicable to charities, and can be read over your tea break!) or talk to our implementation specialists about the best CRM system for your website. We can even integrate your existing CRM into a new or old website. 
---
---