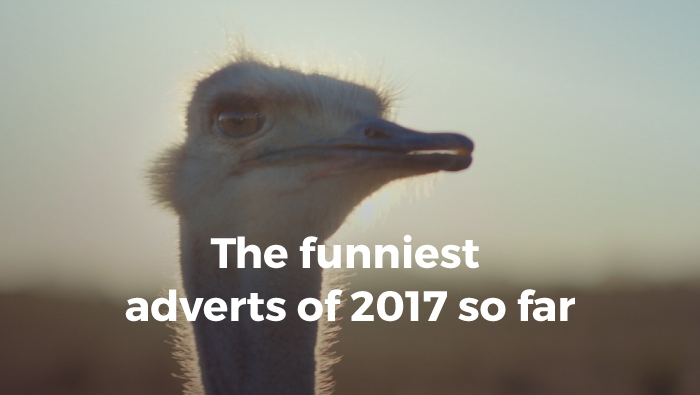 Think back to some of the adverts that really caught your attention. I can almost guarantee that some of them made you laugh. Smash's aliens, Peter Kay's No Nonsense John Smith adverts, Cadbury's drumming gorilla - there's a current of humour running through each of them that helps them stick in your mind. The punchlines are stories you want to tell friends. They're conversations you have in the pub.
Last year, we looked at some of the funniest adverts of 2016 and now we want to highlight some of the funniest adverts of 2017 so far. Which ones make you laugh? Which ones are you going to tell your friends about?
#LiveALittle
By: VCCP
For: Virgin Games
Why we love it: It places the extraordinary (a vampire) in an everyday context and makes it play by our rules. The humour comes from the mundane setting. Not only that, but the punchline is subverted as well - the granny at the end is the icing on the cake.
Chosen by Frankie Metzinger, Account Manager.
Ostrich
By: Leo Burnett Chicago
For: Samsung
Why we love it: It poses the question; what does virtual reality enable us to do? The answer: Experience something we couldn't experience otherwise. This idea is then translated to the limitations of a flightless bird and the humour just keeps coming. What does it look like if you learn to fly? What do the other ostriches think? The answer is this advert and it's as beautiful as it is funny.
Chosen by Sunny Deo, Creative Director.
If We Won
By: Droga5
For: Newcastle Brown Ale
Why we love it: It plays on Stephen Merchant's quintessentially British humour and highlights common complaints us Brits have about our American cousins. Merchant's response to the question; "What would have happened if we'd stayed in control of America?" sounds like a conversation you would have with friends in the pub. The result is funny and thought-provoking in equal measure.
Chosen by Ruth Hartnoll, Content Manager.
Why would anyone shop at TK Maxx?
By: Wieden & Kennedy
For TK Maxx
Why we love it: The tone of this advert delivers on so many levels. The main character's monologue. The absurd and ostentatious scenarios the products are placed in. It's not only a funny watch, it looks like it was a laugh to film as well.
Chosen by Kirstie Fisher, Marketing Manager.
Short but deadly
By: Saatchi & Saatchi Stockholm
For: Elmsta 3000 Horror Fest
Why we love it: The idea is so clear and absolute: What does a short horror film look like? The art direction is on point; there's a series for this campaign that lends so eloquently to each genre it borrows from, you really do believe they're real horror films.
Chosen by Dave Welsh, Designer.
McDonald's McCafe
By: Leo Burnett London
For: McDonald's
Why we love it: It's instantly relatable and it delivers its message in the quickest way possible. How often have you made that face before taking a sip of coffee? And, how often will you think of this advert the next time you have a cup of coffee? My bet is a lot.
Chosen by Adam Smith, Art Director.
Which is your favourite?
Let us know via Twitter!
---
---