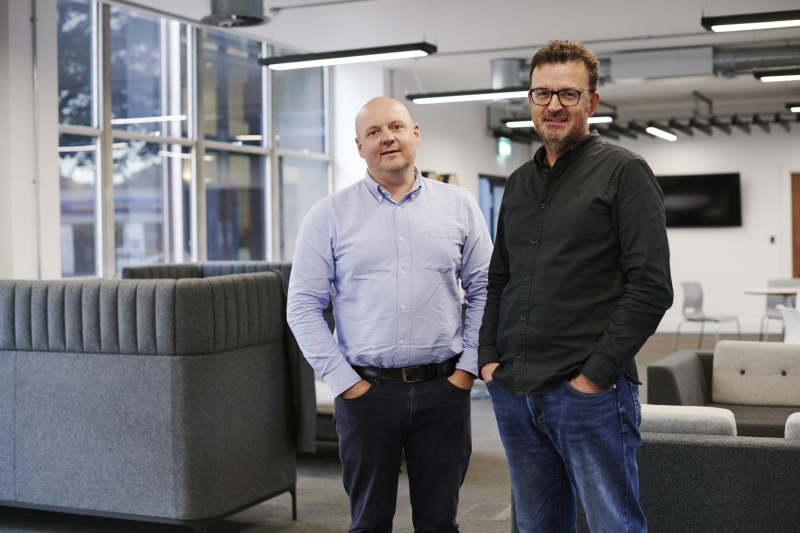 Simon Landi and Mark Hope are the dynamic duo behind Access' continued success over the past 20 years. So as part of our 20th year celebrations, the directors discuss how the agency has adapted to ever-changing industry demands during the past two decades.
Q. What were your predictions for the industry when you first set up Access in 1999 – and did any of your forecasts come true?
Simon: Creativity, customer service and contacts helped us through our first few years, but it's our flexibility and ability to keep re-inventing ourselves which has allowed us to survive and thrive; none more so than our investment in digital expertise as early as 2004, which later became the bedrock of the agency.
One thing that we recognised fairly early on is that we knew we had to become a digital as well as creative agency. Even 20 years ago, we could see that technology was really starting to impact our industry and that things were about to evolve. What we didn't predict at that time was the scale of this shift and that smartphones would come along and pretty much disrupt the whole landscape! 
Mark: From the mid 90s I anticipated there would be huge opportunities in digital and so I transitioned from being an offline creative to focus on helping agencies and client businesses get going with digital marketing and website development.  I joined Access in 2006 (after three years' freelancing here) to develop this side of the business. 
One thing I've always predicted as being significant is open source technology. In the early days of our digital service offering we had to justify the use of open source technology and software, whereas now it's very much seen as the best solution. A successful track record of large scale projects, the pace of innovation and, more recently, large corporate investors backing open source has gone a long way to support its positive PR.
Q. What are the most significant ways in which you think the industry has changed in the past two decades?
Simon: The sheer pace and speed of everything now really - from client contact to internal comms, and creative design, artwork and video production; even the design and build of websites. It's all accelerated enormously. This also includes access to financial information, which used to take months but is now visible at the touch of a button! So in relation to this – the digitisation of everything.  Email, smartphones and social media have all played a huge part in this shift. Social media was a game changer because it revolutionised how consumers and brands interact. Email allows us to communicate instantly with clients, suppliers and partners to deliver projects more rapidly, and smartphones allow us to do all this remotely - while on the move or on holiday!
Mark: Everything is infinitely more measurable than it was even 10 years ago. From marketing campaigns and website user interactions, to customer experience, the amounts of data that can be collected and analysed is staggering. I think some of the enjoyment and magic of the creative process has been lost, as everything is much more driven by data. That's not to say that the big creative idea is irrelevant, just that the success of a brand or product is less linked to one 'big idea' and is much more linked to an overall experience across lots of channels. 
Service and agency consolidation has also impacted on the sector. Some of the larger network agencies want to own everything, with mergers, acquisitions and consolidation happening. Big agencies are also under pressure, as the sizable consulting firms (Accenture, IBM, Deloitte etc) have diversified and entered the agency space. There's still a place for independent agencies but just with an increasing need to offer a specialisms – be that in a technology, service or sector.
Client side teams or 'in-housing' has increased greatly too - particularly in digital marketing and product development. I'm still optimistic about the scope and role of agencies, although it means that we have to work even harder to differentiate and provide value and this could mean either offering fewer services or focussing on a specialism that companies will struggle to match via an in-house team. 
Q. Who were your first clients when you first set up the agency?
Simon: One of our first clients was the Deb Group, a world leader in occupational skin care and hand hygiene that is now part of the global SC Johnson Professional group,  and we're proud to say that they're still a client today. From launching their global website and building multiple microsites, through to creative work across a wide range of marketing materials, we've helped them deliver a breadth of successful projects.
Our other major client in the early days was Focus DIY when they were in their heyday.

Paul Blount from SC Johnson Professional has been with us for 20 years too, and recently joined us again for a roundtable event. 
Q. What single piece of tech do you think has most significantly changed the way the business operates?
Mark: In generic terms it's definitely cloud computing. It's changed everything – the way we manage and produce work, how and where we work and who we can collaborate with. It's also provided software and tech startups with much lower cost of entry and well as tools that scale with demand - the vast majority of software and business tools we use ourselves is SaaS (Software as a Service) which means we can access from anywhere on almost any device.
Q. How has Access evolved as a business across its two decades? What have been the main challenges while trying to evolve in line with the marketplace?
Simon: Keeping things flexible and 'agile' - in every sense of the word – has been key to our evolution, and there have of course been some challenges in trying to achieve this. Staying ahead of technology is important too. 
Remaining relevant to our clients, where their needs and structures are constantly changing is something we're always assessing, "Where do we add value and differentiate ourselves from our competitors?". But understanding their business problems and finding solutions, we are able to adapt around this.
And a final noteworthy challenge to mention is that of creating a value-based business. Within a hugely diverse and competent competitive environment, it can be difficult to continue to maintain margin across the business.
Mark: Much of our digital work has moved significantly towards larger digital development projects. This presented challenges around the way we manage the whole business; from recruitment, project management, multi-team collaboration, design ethos, training and quality assurance. We have a team that has developed a culture of continual improvement and they are constantly learning and refining the way we manage projects, approach training and knowledge sharing, and technical R&D.
A major economic crash, recessions and Brexit have all added to the challenges along the way but we can't do much about that!
Access' logo has also gone through some changes in the past 20 years!
Q. Building a positive culture and retaining talented team is something Access has long been passionate about. Why has this been so important to the business?
Simon: Talented people are our number one asset so when we find them, which in itself is hard to do, we work hard to keep them. We've also come to realise that it's not all about money. Yes you need to pay  people well, but you also need to support and reward them in other ways. Training, work/life balance, the working environment, health & wellbeing, personal development plans are all part of this process - and  we're always expanding our levels of support.
Mark: The team spends a lot of time together so it's vital to make it a positive and enjoyable experience. There are also well known commercial benefits of a healthy culture and environment, such as increased  productivity, innovation and quality of work. We invest a lot of time and effort in recruiting the right people and training them. So retention of them and the retention of knowledge is an important consideration.
 Q. If you could personally change something that affected the business in the past 20 years what would it be?
Simon: In an attempt to be flexible and agile, occasionally this has meant that I've made decisions too quickly - rushed a change that, with the benefit of hindsight, would have made better sense to have waited a little longer. So I now try and take more time making significant decisions… we'll see if that works!
Mark: Maybe placing greater importance on 'understanding the numbers' sooner. As someone who entered the industry as a creative, getting excited about accounting and spreadsheets was the last thing on  my mind. However, it's vital to have a thorough plan, a robust understanding of the numbers, and the right financial support when a company starts to grow.
Q. Who have you most admired in the industry during the past 20 years?
Simon: Amazon - a business that quickly became relevant in the late 1990s and has continued to stay relevant ever since. From books to practically anything you could wish for, the Kindle to Alexa, Audible to Prime - is there anything these guys aren't capable of?
Mark: I think Apple is hard to beat in terms of commercial performance, brand value and its approach to design. My admiration is for the single-minded approach to design quality and usability. Just over 20 years ago Apple had fallen to licensing Apple Mac 'clones' in an attempt to compete with Windows PCs. Since then we've seen the beige boxes disappear and a long line of design innovations, from the original iMac to revolutionising the mobile phone.
Q. What's been the agency's biggest achievement?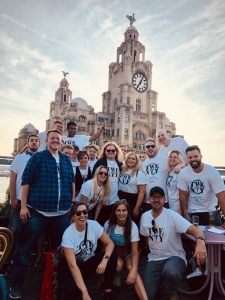 Simon: Reaching 20 years so far and building such a brilliant team! On our 20th birthday bash in Liverpool I was able to reflect on how individual everyone is but how well the dynamics in the agency work, with everyone adding real value and contributing to our success. ​When we started the business I could never have dreamed that we'd now be working with established, national brands such as WaterAid, Coop Insurance, the Welsh Government, Stagecoach and the owner of whisky brands such as The Famous Grouse and Highland Park!
Mark: My personal highlight came at the end of 2013, when we won the project to redevelop BAFTA's website. To have been the web development and digital partner of BAFTA was a real highlight and a great campaign to be involved in. It confirmed the progress we had made in evolving our team and capabilities and took us to another level of credibility and exposure in the industry. As well as being a lovely brand to work for the teamwork and collaboration with the client and their partners was great. We continue to support BAFTA and the quality of the work has stood the test of time.  

 Q. What are the immediate priorities for Access and your plan for the next few years?
Mark: We have a five year plan, launched last year, which we now want to achieve in four! Our vision includes a six-point strategy for growth, covering core objectives and driving everything we do. They're all  equally important but underpinning everything is the development of our services and expertise to match the demands of our clients – expanding on data and analytics, UX, and digital experience.
Q. And finally … what's your favourite campaign delivered by Access and why?
Simon: Can I have two? The Commonwealth Games in Manchester in 2002 was such a special project for everyone involved. The pride we had in helping our home city deliver an incredible sporting event will never be forgotten! Working for the Welsh Government - on campaigns that aim to change behaviours and prevent domestic violence - is also something that has been very special to me, knowing that we are helping make a real difference to people's lives in such a positive way. 
Mark: As well as BAFTA, it's one of our more recent campaigns – 'Together' for UCLan. The proposition came out of extensive research and I think the strategy and creative teams really created something that was both effective and beautifully crafted. Despite hearing Ella Eyre, Together, endlessly while the film was in production, it still hits the spot for me. And the results for the client back up the approach.
We look forward to what the next 20 years have in store for the agency - and whether the pace of change will continue. We've already got off to a great start with a hugely successful year and five new major clients joining our client list, including WaterAid, Edrington, Stagecoach Bus and Greater Manchester Moving. The team has also grown - and is set to continue to do so as we head into 2020. We're really thankful to everyone who's helped Access to get where we are today and long may our friendships continue.
---
---