Challenging business conditions can not only force change but, in actual fact, times like these can inspire businesses to make more radical decisions to go further with their business-change strategies, than during 'normal' operating conditions.
In a recent research project, we found that 55% of manufacturing marketers said that their top challenge for 2020 is overcoming the traditional marketing-and-sales mindset. Building relationships with customers has never been more important and embracing new channels and business-critical techniques is more important than ever. 
So in a time when change is inevitable not optional, what is our advice to manufacturers that not only need to shake up their presence in their marketplace to ensure they're relevant, but also to those that have the desire to make their marketing more effective in the long-term?
Here are our top three suggestions on how manufacturing businesses can step up their creativity to stand out from the competition: 
1. Create stand out by doing things differently with content
The notion of creating and sharing targeted content to gain a competitive edge isn't a 'hot new idea', and many manufacturers do it in some capacity. But most recognise they could be doing it better. So how? 
How you present content and how you share it offers a huge opportunity to be creative and to create engagement at each stage of the sales funnel. Done well, it not only helps build your company's brand personality, it also increases visibility, credibility and reputation, demonstrates expertise, and showcases your product portfolio too. 
With a bit of time invested to think through a content strategy (what, to who and when) and an interesting angle from which to position the content, manufacturers are often surprised at how much unique, informative and re-usable content they'll have at their fingertips. 
Shareable and engaging content pieces, in formats that are easy to digest, vary from general industry thought-leadership blogs that build awareness and brand confidence, through to product comparison quizzes and how-to guides to support sales conversions. The more general use of behind the scenes video tours, emails, ebooks, video case studies, vox pops, infographics and whitepaper downloads, are all engaging content pieces that your customers will be interested to see. It creates the perception of industry authority, keeps you front of mind, and provides the opportunity to capture enquiry details.
Polymeric Labels presented their brand in a new light by creating a corporate video to show the sheer craft that goes into their work.
2.  Explore creative ways to use emerging technology 
Augmented Reality (AR) technology has already made its way into the manufacturing workplace, notably through the facilitation of health and safety programmes, training, and maintenance and asset management. But have you ever considered the other possibilities it offers? Mixing the real with the virtual through a tablet or phone brings a unique and interactive experience that sets you apart from your competition and it doesn't necessarily require sky high budgets. It's an investment that adds a great deal of value to your customer experience.
Take a fresh look at your new product demos, sales pitches and trade show stand displays for example. AR adds that element of intrigue, it grabs attention and takes what is considered to be pretty dry brochure content and really elevates it. Incorporate it into your marketing suite to demonstrate the quality workmanship of your new products in an interactive and immersive way. Not only will it increase brand recall, it'll also increase time spent with your potential customer as they consume the AR story you've built.
3. Inject creative storytelling into your branding
Having worked with many B2B brands over the years, we've gradually seen the industry transition to the idea that the selling of B2B products and services requires a similar level of creativity, storytelling and long term brand building as seen in B2C. B2B brands can't rely on purely rational product messaging to achieve long term growth, there needs to be an element of emotional investment from customers.
"Modern B2B marketing needs to appeal to both hearts and minds," says Claudia Bate, Head of technology at FleishmanHillard Fishburn. "The decision-makers that matter do not leave their emotions and personalities at the door when they go to work. Creative storytelling, quality content and a distinctive brand identity are hugely important tools for breaking through the noise to drive real business value."
As any sales team will testify, 'people buy from people' so why not apply that to your brand narrative? Share your brand story through the people and ideas behind the products, and present it in an engaging and authentic way. This will help to define your point of difference and will attract like-minded prospects. 
Many of the manufacturing companies Access speak to have some fantastic innovation at the heart of their operation. But we often find they're being held back because their public and customer facing identity simply doesn't reflect this well. Their point of difference to outshine the competition is hidden away.
Manufacturing is naturally a very sales orientated business, so once the essential sales materials are produced and the website is operational, the profile building marketing activities to enhance customer relationships are often considered a lower priority. So if you're wanting to stand out through creative ways to have a bigger impact on potential customers, the time is now to make marketing a priority.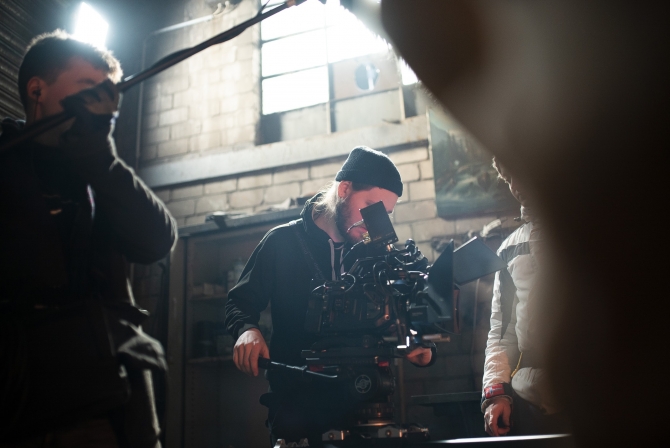 Here at Access, our strategy and planning team can help identify where a more creative approach to engaging with your prospective customers could help grow your manufacturing business. We have extensive experience of running workshops and discovery sessions designed to ask the right questions and quickly get under the skin of the brands we work with enabling us to make insight based, cost effective recommendations for your future marketing activity. 
---
---