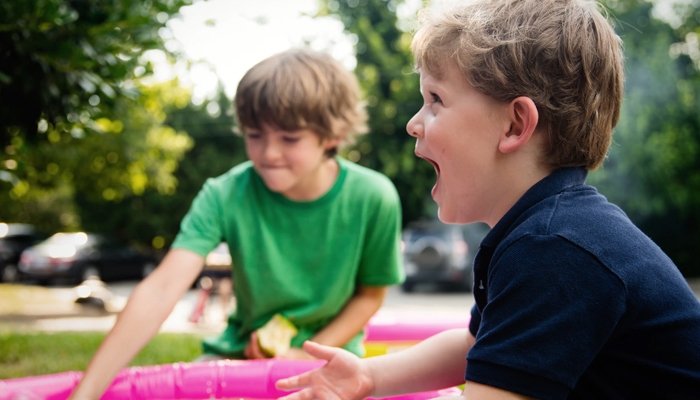 It's a campaign that has got us all talking, but over a week since Gillette unveiled its "We Believe: The Best Men Can Be" ad – now the dust has settled, are we ready to agree if the brand has done the right thing?
Well it seems we're divided on the matter – even at Access HQ, where few are sitting on the fence – we're all a bit marmite, loving its sentiment or hating everything about it.
Over the past seven days, I've read with interest some of the (extensive) media commentary on Gillette's attempt at brand purpose.  
Marketing Week's Mark Ritson leapt straight in with his response 24 hours after the ad aired and he didn't pull any punches with his headline: "Gillette's new ad will trash its sales and be the year's worst marketing move." Ritson argues that although you can see a glimmer of the sentiment at the heart of the campaign, "Gillette's ad feels like a tedious, politically correct public health video... Never mind making me hate Gillette, it makes me feel bad about pretty much everything." He ends the piece by declaring: "There is a special place in marketing hell for companies that not only waste their marketing budgets but actually invest that money into things that ultimately make their situation much worse." Pretty strong stuff.
Campaign's coverage of the issue has remained somewhat more balanced. To date, it has generated seven articles, with its latest commentary focusing on the female response. According to a study conducted by big data research company MavenMagnet who analysed over 900,000 online posts around the campaign, almost 40 per cent of females online had a negative reaction to the ad. Perhaps not quite the figures the brand was hoping for from an ad developed to support women.
More tellingly from a business perspective, however, was the online discussion on whether the campaign will have a negative impact on sales. The results here were not that disastrous with a pretty evenly split. Forty three percent of consumers were against the brand's advertising strategy and 55 percent for it.
Over on The Drum we can get a flavour of ad land's thoughts with commentary from agency creative heads. A pretty divided picture, as expected, but a common consensus that Gillette now has to put its money where its mouth is and follow this campaign and stance through in everything that it does going forward. The brand is certainly going to be coming under some very close scrutiny.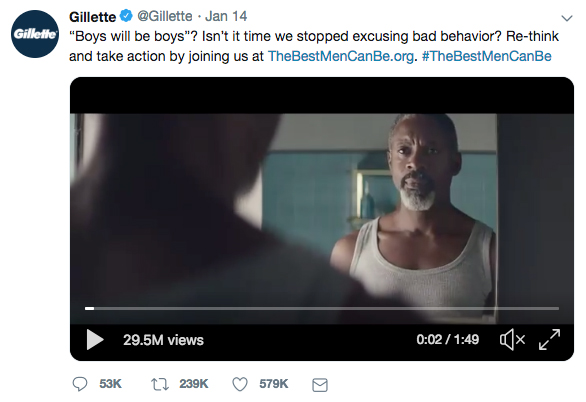 And my take on it?
I personally believe the sentiment is great – why shouldn't we be reminded of the importance of being a positive role model to the next generation? Brands taking a stance can often be a positive thing, and Gillette is a long established enough brand to take the risks associated with deviating from a core product sales approach to advertising.
But I tend to agree with many of my peers that it's Gillette's execution that's left audiences with a bad taste in their mouth (although reading some of the comments this is already the understatement of the year).
I think the main problem is that of authenticity, which conversely has been tipped as a major trend for 2019. More than ever before brands need to be true to their values and audiences will call out brand's that step on a pedestal simply to drive sales, with no substance or wider conviction behind the messaging. Gillette has already been accused of hypocrisy after critics quickly pointed out last week that its razors marketed to women are subject to a Pink Tax – costing more than those aimed at men. It will be extremely interesting to see how the brand follows through what it has started – taking this stance and ethos right through to the very core of the business. If they succeed in doing this then we may even see Piers Morgan eat his words. Only time will tell but we will be watching carefully.
Perhaps tying into the issue of authenticity and something that Gillette could do with swiftly reconsidering, is that there are currently no plans to tailor the ads to audiences outside of America. Right now, we've been left with a one dimensional view of toxic masculinity from a brand perspective, showcasing an all American standpoint. Imagine a campaign which delved deeper into the issues, addressing what this means geographically and making a stance on a global scale. Now that would have the potential to really get people talking.
Beyond the execution itself, let's not also forget that with their million dollar budgets, global brands like Gillette dwarf the comparative miniscule marketing spend of really worthy charities that have been trying to champion positive change like this for years. Organisations with a 'real' right to gain widespread recognition for their beliefs, achievements and drive for change. Should the next step be for Gillette to join forces with smaller charitable organisations to use its budgets and marketing clout to push forward the greater good?
We ourselves were proud to support the fantastic efforts by the Welsh Government to address the very important issues of violence against women and domestic abuse with campaigns that, in a similar vein to Gillette's, were designed to make people question their own behaviours and levels of acceptance.
We implemented a total of four campaigns with them and on each one the budget was tight, but we were resourceful and creative, working with the Welsh Government's press office and using Facebook as the key platform to provide the perfect launch for PR activity.
Our innovative approach - bringing to the fore the spectrum/line between 'boyish' joking to serious abuse - was a first for tackling the subject of domestic abuse on Facebook, and a direct result was a 30% increase in call volume to the All Wales Domestic Abuse and Sexual Violence Helpline following the Christmas campaign. Exceptional results but imagine what could have been achieved with the big budget marketing support of a brand like Gillette?
Love it or hate it, what is clear is that we are just over three weeks into 2019 and 'woke' or 'purpose driven' marketing are the buzz words on everybody's lips. Expect to see more brands stepping out of the shadows with braver and perhaps riskier executions than we have been used to, and expect to see A LOT of discussion, dissection and debate as the industry analyses who and hasn't hit the mark. We can't wait!
---
---